Trams in
Oslo
Trams in Oslo are operated by Trikken, a subsidiary of AS Oslo Sporveier who is the transit authority responsible for planning. AS Oslo Sporveier owns the vehicle fleet and rents it to Trikken.
Much of the operation, especially downtown, operates in mixed traffic on city streets. Many stops are being converted to have level boarding with the partially low floor SL95 fleet - some by adding island platforms on wider streets, and some by extending a sidewalk "bump" out to the track. In some situations, track is located in the curb lane so neither is necessary.
Out of the downtown area, much of the system operates as true LRT as they have track in an isolated right of way in the centre of a road or in a totally private right of way. One section on one line uses track that previously was shared the T-bane (metro/subway) system.
Contents
Toronto Comparison
Though Toronto will have separate streetcar and LRT systems, Oslo provides an example of a system that operates much like Toronto's streetcars in the downtown core, while becoming a true LRT operation outside of the core.
Another aspect of Oslo's system that will also not be seen in Toronto is the mix of two different types of vehicles. One type of vehicle is single ended with operator controls at one end and passenger doors only on the right side of the vehicle, while the other type of vehicle is double ended with operator controls at each end and passenger doors on both sides. Toronto's streetcar network will continue to use vehicles of the former type, while the new LRT lines will use vehicles of the latter type.
Historically, Trikken shares some experiences with the TTC. Originally starting as private horse car lines that were later electrified, the lines were later amalgamated into a civic operation. Later on, tram abandonment was the plan until that decision was reversed in the 1970s.
Many downtown areas of Oslo are served by at least two routes that interline in the city centre. This provides more frequent service in the core than would be possible with a single route.
Oslo also has a waterfront attaction, Aker Brygge, that is somewhat reminiscent of Harbourfront. Tram operations in the area, which opened in 1995, are a good example of what streetcar operations in Toronto could be along Queen's Quay.
System Highlights and Route Details
Number of lines
6
Total length
131.4 km
Total stops
99
Loading
Many platforms at door level
35 cm above track
Fleet
40 Duewag/ ABB Strømmen SL79
32 Ansaldo Transporti SL95
80 km/h top speed
SL79 details
Seats 70 passengers; room for 66 standing
22.2 m long, six axles (outer 4 powered)
High floor with steps onboard
4 double folding doors on right side only
Single folding door at rear on left side on some units
SL95 details
Seats 88 passengers; room for 124 standing
33.1 m long, 8 axles (all powered)
Low floor in immediate areas near doors
3 double and 1 single plug doors per side
Ridership
Approximately 100,000 per day
Fare collection
Single fare may be purchased on board from operator
All fare media may be purchased at retailers or railway stations
Some stops have fare vending machines
All fares must be validated on first vehicle used
All-door loading used; passengers activate doors to open
Fare integration
Fares same as bus and T-bane
Fare fully integrated with commuter rail system
Validated single fare good for 60 minutes
Airport service
No direct service
20 minutes from downtown on separate fare express train
Commuter rail system also provides service to airport
System opening
1894: First horsecar line began operation
1900: System electrified
1917: South-eastern line on east side of Oslo Fjord built to Sæter
1924: Separate operators merged
1939: North-eastern line to Sinsen built
1941: South-east line extended to Ljabru
1995: Line over Aker Brygge added
1999: Extension of north-west line from University of Oslo to Rikshospitalet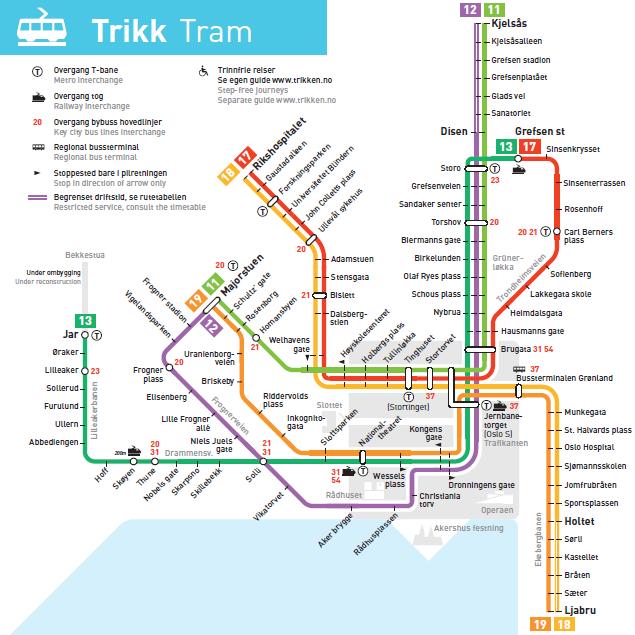 Route 11
Stations
28 plus 1 (1 one-way stop serving one direction)
6 stops from Kjelsås to Sanatoriet not served mid-days
Right of way
Mixed traffic along entire route
Stops at Kjelsås and Birkelunden are off street
Service frequency
10 minutes until 7:00 pm weekdays, 5:00 pm Saturdays
20 minutes after 7 pm weekdays, 5 pm Saturdays
30 minutes Saturdays and Sundays before 11 am, 20 minutes after
Running time
30 minutes to Disen mid-days
33 minutes to Kjelsås other times
Route 12
Stations
31 plus 2 (1 one-way stop in each direction)
Right of way
Mixed traffic from Kjelsås to Christiania torv
Stops at Kjelsås and Birkelunden are off street
Pedestrian mall from Christiania torv to Rådhusplassen
Mixed traffic from Rådhusplassen to Majorstuen
Service frequency
10 minutes until 7 pm weekdays, 5 pm Saturdays
20 minutes after 7 pm weekdays, 5 pm Saturdays, 11 am Sundays
30 minutes Saturdays and Sundays before 11 am
Running time
43 minutes mid-days
40 minutes evenings
Route 13
Stations
29 plus 3 (2 one-way stops in one direction, one in the other)
Right of way
Private right of way from Jar to Thune
Mixed traffic from Thune to Solli
Separated median from Solli to Nationaltheatret
Mostly mixed traffic from Nationaltheatret to Storo
Birkelunden is off street
Storo to Grefsen stasjon is on private right of way
Service frequency
10 minutes to Jar before 8:00 pm,
20 minutes after
Running time
46 minutes to Jar mid-days
Route 17
Stations
25 plus 1 (1 one-way stop in each direction)
Right of way
Private right of way Rikshospitalet to John Colletts plass
Mixed traffic from John Colletts plass to Grefsen St
Service frequency

10 minutes until 8:00 pm weekdays, 6:00 pm Saturdays
15 during the summer, mid June to mid August
20 minutes after 8 pm weekdays, 6 pm Saturdays, 11:45 am Sundays
30 minutes before 11:00 am Sundays

Running time
34 minutes mid-days
31 minutes evenings
Route 18
Stations
28 plus 2 (1 one-way stop in each direction)
5 stops from Ljabru to Sørli not served mid-day
Right of way
Private right of way from Rikshospitalet to John Colletts plass
Mixed traffic from John Colletts plass to Oslo Hospital
Private right of way from Oslo Hospital to Ljabru
Service frequency
10 minutes until 8:00 pm weekdays, 6:00 pm Saturdays
15 during the summer, mid June to mid August
20 minutes after 8 pm weekdays, 6 pm Saturdays, 11:30 am Sundays
30 minutes before 11:30 am Sundays
Running time
32 minutes to Holtet mid-days
38 minutes to Ljabru other times
Route 19
Stations
23 plus plus 3 (2 one-way stops in one direction, one in the other)
Right of way
Mixed traffic from Majorstuen to Oslo Hospital
Private right of way from Oslo Hospital to Ljabru
Service frequency
10 minutes until 7:45 pm weekdays, 5:45 pm Saturdays
15 during the summer, mid June to mid August
20 minutes after 8 pm weekdays, 6 pm Saturdays, 11:30 am Sundays
Running time
37 minutes mid-days
35 minutes evenings
Ride Descriptions
Since routes interline in the city centre (Sentrum), the first part of this section will have some photos there, followed by trip descriptions out to the end of each line.
Sentrum
Some photos around the city centre:
| | |
| --- | --- |
| Route 18 tram arriving at Prof. Aschehougs plass. | Route 19 arriving at Nationaltheatret. |
At Majorstuen, Route 11 trams become Route 12 (foreground) and vice versa. Buses also use this stop.

Just west of Solli, there is a wye intersection in a traffic circle with a fountain. Trams pass through the fountain.
LEFT: Route 12 to Kjelsås passes through wye the fountain.
RIGHT: With no traffic passing, fountain operates at full; when cars pass near, it is slightly reduced; when trams pass through, it is greatly reduced.

"Green" median rights of way:

LEFT: At Vigelandsparken, a route 12 tram to Majorstuen can be seen approaching
CENTRE: Route 12 to Majorstuen leaving Frogner plass and entering the median right of way on Kirkeveien
RIGHT: Route 12 to Majorstuen leaving Frogner plass and entering the median right of way on Kirkeveien

Accommodating minimum turning radius with tight streets...

Turning from the curb lane on Akersgata to the curb lane on Tollbugata requires a wide turn to the left side Tollbugata.
LEFT and RIGHT: View from the west. CENTRE: Route 19 to Ljabru making the turn seen from the east.
BELOW LEFT: A little further east as the tram returns to the curb lane. BELOW RIGHT: Even buses need to make a wide turn here!

In the city centre, a branch along the waterfront past Aker Brygge, is travelled by route 12...

LEFT: Route 19 at Rådhusplassen. This stop is served by route 12, but construction in 2008 had routes 13 and 19 detour through this area.
CENTRE: Route 12 to Kjelsås at Aker brygge.
RIGHT: Route 13 to Bekkestua just west of Rådhusplassen.
Route 13
The trip on Route 13 from Jar to Nationaltheatret, takes approximately 46 minutes.
Since Jar was once used by both T-bane and trame operations, there is both a turning loop and a crossover. SL79 trams must use the loop, while SL95 may be turned back using either.
The alignment of Jar is approximately north-south. Leaving Jar, the line curves to the east on its own right of way at the point where the former T-bane line continued further north. The overhead wiring is a full catenary installation, but changes to non-catenary just west of the next station.
The next station is Øraker followed by Lilleaker. The line continues on its own right of way where it crosses roads with a railway-type crossing that is signalled with gates.
The next stops are Sollerud, Furulund, Ullern, Abbediengen, and Hoff. Following that is Skøyen, where a loop exists west of the stop.
| | |
| --- | --- |
| Just east of Ullern in August 2008, outbound Route 13 is leaving temporary single track section where track replacement construction is underway. | |
When a route 10 existed and provided service to Jar (Bekkestua late at night), this was the terminal point for route 13 (see photo of 1997 map).
The right of way continues for one more station, where it ends just before the line reaches Thune. The private right of way ends with the line passing through a traffic circle and onto a median right of way on Drammensveien where the Thune stop is. The median right of way continues east for another block where the trams join mixed traffic on Drammensveien.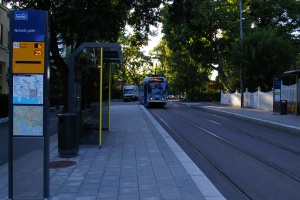 Nobels gate stop, like others on Drammensveien, has sidewalk and curb "bump-out".
Much of Drammensveien is a three lane road, with westbound trams in the curb lane, and eastbound in the centre. Eastbound stops have the sidewalk and curb "bump-out" to the middle lane. Continuing east, the stops Nobels gate, Skarpsno, and Skillebekk have this characteristic.
East of Skillebekk, the line returns to a median right of way, and passes through a traffic circle before reaching Solli. The stop at Solli is served by both Routes 12 and 13 as Route 12 travels along Drammensveien for about a block at this point.
From Solli to Nationaltheatret, the line runs in a median right of way with one stop at Slottsparken just after Route 19 joins the right of way.
Northwestern line (Routes 17 and 18)
The trip on the northwestern line from Rikshospitalet to Holbergs plass in the city centre takes approximately 13 minutes.
Rikshospitalet is a stub-end terminal with near-side cross-overs. As such, it is only served by the double-ended SL95 trams that run on Routes 17 and 18. This part of the trip operates on a right of way that parallels a road. This extension between Rikshospitalet and John Colletts plass was built in 1999. The entire line has platforms that make it fully accessible.
| | |
| --- | --- |
| Route 17 has just arrived as Route 18 is ready to depart Rikshospitalet. | Same trams as left photo viewed from the far end of Rikshospitalet. |
The first stop is Gaustadalléen followed by Forskningsparken, which is also a stop on T-bane lines 3, 4, and 5. The T-bane is above ground here and passes over the tram line.
The next two stops are Universitetet Blindern and John Colletts plass where the line curves onto a median right of way on Thereses gate. Prior to the opening of the 1999 extension, John Colletts plass was the end of this line and there is a turn back loop at this location.
| | | |
| --- | --- | --- |
| An inbound Route 17 tram arriving at John Colletts plass. | | Outbound Route 18 at John Colletts plass. Photo was taken from across the street and the track in the foreground is heading into the turn back loop. |
The median right of way continues past Ullevål sykeus to Adamstuen, where the line enters mixed traffic. There is a turnback loop at Adamstuen used only for short turns. All stops into the city centre are fully accessible, either by having the tracks positioned at curbside, or with sidewalk/curb "bump-outs".
Between Dalsbergstien and Holbergs plass, each direction travels on separate one-way streets which is the reason for single-direction stops along this part of the line.
Northeastern line (Routes 11 and 12)
The trip on the northeastern line from Kjelsås to Jernbane-torget in the city centre takes approximately 24 minutes.
Trams arriving at Kjelsås let off their passengers on the street before entering the loop to pick up inbound passengers. There is a passing track to the left of the tram on the street.
From Kjelsås to Storo, the line operates on a four-lane road in mixed traffic. Stops between Kjelsås and Disen (Kjelsåsalleen, Grefsen stadion, Grefsenplatået, Glads vei, and Sanatoriet) are staggered as the curb lane disappears due to a sidewalk bump-out for the stop.
At Disen, there is a loop for trams to turn back from the south, and this stop is the north end of Route 11 mid-day weekdays and Saturdays, as well as after 10 pm on Saturdays and Sundays. From November 2003 until November 2005, all trams turned back at Disen as the line to Kjelsås was closed down due to financial difficulties.
| | | |
| --- | --- | --- |
| Route 11 to Majorstuen at Storo. | Route 12 to Kjelsås at Storo. | At Storo, Route 13 (left) joins with Routes 11 and 12. |
Continuing south, the next stop is Storo, where Route 13 joins Routes 11 and 12. There is also a T-bane station at Storo that is on the north part of the city loop of the T-bane system, served by lines 4, 5, and 6.
From Storo, the line operates in a median on Grefsenveien with the first stop named after that street. At the next stop, Sandaker senter, the street becomes Sandakerveien and the line continues in a median.
Where Sandakerveien becomes Vogts gate, the line is in mixed traffic past the next two stops of Torshov and Biermanns gate. Just south of the stop at Torshov, there was a former branch off of Vogts gate at Bentsebrugata. The connection with the current tracks have been removed, but the tracks on Bentsebrugata are still present (see photo of 1997 map to see this branch).
At Biermanns gate, Vogts gate becomes Toftes gate and curves to a north-south alignment. The line follows this street for a little over 300 metres to Schleppegrells gate where it turns onto its own right of way on the south side of this street to head west for one block. The stop at Birkelunden is on this separate right of way stretch.
At the west end of this separate right of way, the line turns south again on Thorvald Meyers gate for the stops of Olaf Ryes plass, Schous plass, and Nybrua. At Nybrua, the line curves to the southwest onto Storgata at a wye intersection with Trondheimsveien, where Route 17 from Grefsen via Sinsen joins. The first stop south of here is Hausmanns gate.
The line on this part of Storgata is in mixed traffic, but other traffic is separated into curb lanes at stops.
This poses an interesting arrangement at the next stop of Brugata. Both platforms are on the north side of the intersection, but south of the intersection, the street is only two lanes wide. Southbound traffic must merge with the tracks in the intersection (see photo to the left) while northbound traffic must shift over to the separate lane.
The last stop on this run into the city centre is Jernbane-torget. For Routes 12 and 13, this stop is on Storgata south of the intersection with Nygata. Routes 11 and 17 turn west at Nygata and the Jernbane-torget stop is just west of the intersection.
Route 17
The trip on Route 17 from Jernbane-torget to Grefsen takes about 14 minutes. From Jernbane-torget, Route 17 travels up Storgata to Trondheimsveien (just past the stop at Hausmanns gate) where it branches northeast on Trondheimsveien at an intersection with a double track wye, allowing trams from any of the three approach directions to travel to either of the other two directions.
| | | |
| --- | --- | --- |
| Trondheimsveien is mainly four lanes with parking in curb lanes. "Bump-outs" exist at stops. | | Looking down Trondheimsveien from Lakkegata skole, a Route 17 to Grefsen is approaching. |
The distance up Trondheimsveien to Carl Berners plass is just over 2 km with three stops in between: Heimdalsgata, Lakkegata skole, and Sofienberg. On this stretch of Trondheimsvein, much of the road is four lanes wide with parking allowed in the curb lanes. The curb lanes disappear at stops where the sidewalk "bumps out".
At Carl Berners plass, Trondheimsveien jogs to the north for a couple of blocks. Originally, the tram tracks along this jog were in the curb lanes. In September 2007, a project for improving the visual and traffic flow was passed. The project started April 2008, and finished by autumn 2010. Traffic in this spot used to be controlled by traffic lights but is now rebuilt in to a roundabout, with the tram tracks through its centre. There is a T-bane station at Carl Berners plass served by lines 5 and 6.
The route continues up Trondheimsveien where it enters reserved lanes just before reaching the Sinsenterrasen station in Sinsen. Past that stop, the right of way descends below the level of the road after crossing over the T-bane line near the Sinsen T-bane station.
At this location, Trondheimsveien climbs an overpass where it meets the Ring 3 expressway while the tram line crosses under the inbound (southwestbound) lanes of Trondheimsveien. The tram line continues in a northwest direction for less than 100 metres where it makes a right turn to cross under the expressway followed by a left turn to parallel the northeast side of the expressway. This left turn is part of a wye intersection with its west branch of the intersection only going a short distance, less than 100 metres.
Peviously, Route 17 had it operate via Storo to Sinsenkrysset (see photo of 1997 map). This wye would have been used for turning back that route.
Immediately to the northwest of this curve/intersection is the stop at Sinsenkrysset.
| | | | |
| --- | --- | --- | --- |
| Route 17 approaching Sinsenkrysset coming from Grefsen stasjon on the private right of way. | Out of service tram arriving at Sporvognsdivisjonen (carhouse) located at Grefsen stasjon. | At Grefsen, tram on Route 17 is leaving in foreground while a route 13 waits for departure. | Route 13 waiting to depart at Grefsen stasjon. The approaching Route 13 will become a Route 17 for departure. |
The route continues for about another 400-500 metres to Grefsen stasjon. Routes 13 and 17 terminate at this stop with through operation. This means that an arriving Route 17 leaves as a Route 13 and vice versa. Route 17 must be operated using SL95 trams because the terminal at Rikshospitalet has no loop. Operation on Route 13 is to Jar, which has both a loop and a crossover.
Southeastern line (Routes 18 and 19)
The trip on the southeastern line from Jernbane-torget to Ljlabru takes approximately 18 minutes.
Heading east from Jernbane-torget (at Oslo Central Station), the tracks shift so that both are on the south side of the road. The only stop on this part of the line is at the city bus terminal, Bussterminalen Grønland.
Shortly before turning south, the tracks return to mixed traffic. The next three stops, Munkegata, St. Halvards plass, and Oslo Hospital are all in mixed traffic. Half a block south of Oslo Hospital, the tracks pass through the centre of a traffic circle and proceed on a private, side of the road right of way with ballasted tie construction. The longest run between stops is from Oslo Hospital and Sjømannsskolen. It is here that the line begins to climb in altitude.
Sjømannsskolen is a stop situated at a curve in the road and the line where a side street must cross the line. Platforms for each direction are on either side of this street.
This line is built on the side of the Oslo Fjord and at Sjømannsskolen, the shed for city-bound passengers is built into the side of the hill. (see photo to the left). This shed actually has a "green" roof as the hill's vegetation grows there. There is only a shed for the city-bound platform at Sjømannsskolen. This is common to many of the stops on this line, and very similar to the LRT system in Pittsburgh between Washington Junction and Library.
On its way to the next stop, Jomfrubriåten, the line continues to climb the fjord, as can be seen in the photos to the right. At Jomfrubriåten, the line is several metres higher than the road next to it, so the view to the west is rather pleasant. There is a pedestrian crossing at the north end of this stop, that is signalled because the line curves just north of the stop making it difficult to see a southbound tram.
In the past, there was a branch off this line to the east just south of Jomfrubriåten. This branch had three stops, terminating at Simensbråten. It is not know by the author of this page when this branch was removed from service, but it appears on a 1961 system map.
The next stop on the line is Sportsplassen followed by Holtet. At Holtet, there is turn back loop and crossover track south of the stop. Holtet is the terminus for Route 18 on weekdays from about 9:00 am until about 2:30 pm.
| | |
| --- | --- |
| Outbound Route 18 at Holtet. | Outbound Route 19 at Holtet. |
A small, former carhouse exists within the loop at Holtet. Tracks still exist into the four sheds of the building, but only one has overhead wiring. To the south of the loop is a yard for maintenance of way equipment.
One thing that is different about Holtet is that there is a shelter on both platforms. The usual wood shed that is the mainstay of this line is on the outbound (southbound) side, while the city-bound platform has a glass shelter. The wood shed actually provides more protection from the elements than does the glass shelter.
The next three stops are Sørli, Kasstellet, and Bråten. These stops are similar to many of the stops on this line. Sæter is the next stop on the line and has the same design as most on this line with the wooden shed on the city-bound side.
However, immediately to the south of the stop is a short single-track overpass crossing a two-lane road. It appears that local properties would be severly effected by the construction of a two-track bridge.
Oddly, the track uses powered switches and signals to control tram movements. It is possible to have this arrangement operate using spring switches at each end and the single-track section is so short that line of sight operation is possible.
After Sæter, it is a short distance to Ljabru where a loop is used to turn all trams back. Route 18 operates with SL95 trams as Rikshospitalet does not have a loop, and route 19 operates with SL79 trams as Majorstuen does not have a crossover track. There is a stub track at Ljabru that can hold a single tram, but must be entered by a reverse movement from the loop.
| | | | |
| --- | --- | --- | --- |
| Route 18 behind Route 19 at Ljabru. | Shed and next arrival display at Ljabru. | Route 19 departing as Route 18 arrives. | Route 19 ready to departure at Ljabru. |
Fares and Fare Collection
Single fares described here are for travel within Oslo city limits (Takstsone Oslo). The only stop on the network, Jar on Route 13, is outside this zone (in Takstsone V02), requiring a two-zone fare to travel. Canadian dollar figures are based on the exchange rate in effect when this page was updated.
Fare cards must be validated upon first boarding. Single fares are valid for 60 minutes.
Single fare cards (Enkeltbillett) may be purchased at retailers for Kr.30 (about C$5.25) for a single zone, or Kr.50 (about C$8.75) for two zones. To discourage purchasing single fares on board, their price is higher: Kr.50 for one zone or Kr.70 for two zones (about C$12.25).
There are also passes good for 24-hours, 7-days, 30 days, and 365 days from when they are first validated on board a vehicle. Prices are as follows:
| | | | | |
| --- | --- | --- | --- | --- |
| 24 hours | Kr.75 | C$13.10 | Kr.125 | C$21.80 |
| 7 days | Kr.220 | C$38.50 | Kr.390 | C$68.00 |
| 30 days | Kr.620 | C$108.25 | Kr.1070 | C$186.75 |
| 365 days | Kr.6200 | C$1082.50 | Kr.10700 | C$1867.50 |
Accessibility
Only the SL95 trams are low floor, and only in their door areas. Many stops on routes using SL95 trams have a platform that is level with the entrance of LRVs. In some cases, trams operate in the curb lane which also provides level boarding. There remain some stops without level boarding.
Other Notes
SL79 trams are high floor with steps at the doors.
On SL95 trams, all double door areas are low floor; centre doors are opposite each other and only this space is low in the centre section. Other double doors have a wheel chair space opposite them, with the left-side door closest to the end of the car. Floor is low floor from this point to the articulation.

System map image for on-board display.
Current and Planned Expansion
Prior to 2006, Bekkestua, Egne hjem, Ringstabekk, and Tjernsrud were stations on T-bane line 6, but had tram service late evenings when the T-bane did not operate. In addition to these stations, Jar was served by T-bane line 6 as well as tram service all day. Due to this, these stations had both a high-level platform for T-bane trains as well as a low-level platform for trams.
This T-bane service used 3-car trains with overhead power. Thus, T-bane trains on line 6 had to operate with both overhead and third rail power, since much of the T-bane system uses only third rail. Plans to upgrade the line to Bekkestua to full metro capabilities (third rail power and 6-car train length stations) have been in the works for some time with a number of political delays.
When upgrade work began on the part of line 6 between Jar and where full metro standards ended, service was halted but tram service to Bekkestua was provided all day. Since December 2, 2007, route 13 goes as far as Bekkestua, though the extension beyond Jar only operates on a 20 minute basis (30 minutes on Sunday mornings).
More recently, approval has been granted to upgrade the line all the way to Bekkestua and as this work gets underway, tram service now only operates to Jar.
Prior to the closure of this part of T-bane route 6, Jar had the rare characteristic of being a station that was served by both metro trains and trams on the same tracks throughout the day (3 stops in Cleveland have this characteristic). While the other stops to Bekkestua were served by both T-bane and trams, they did so at different times of the day.