LRT in
Calgary
The LRT system in Calgary is known as the C-Train. Calgary Transit currently operates two LRT lines, known as the Crowfoot/Somerset-Bridlewood Line (Route 201, now called the Red Line) and the 69 Street/Saddletowne (Route 202, now called the Blue Line). The Red Line runs between Northwest Calgary and South Calgary via downtown, and Route 202 runs from West Calgary to Northeast Calgary via downtown.
The two routes are interlined along 7 Avenue downtown, where traffic is restricted to transit and emergency vehicles only. This section of both lines are fare free.
Contents
Toronto Comparison
The C-Train predates low floor technology, using high floor vehicles with high platform loading to accommodate accessibility.
While new implementations in Toronto will be low floor for accessibility, the C-Train does provide a good example of the ways that the right of way can be implemented:
fenced-in surface right of way
separated median in roadway
short tunnel sections
downtown transit mall
actual Rapid Transit implementation in outer areas with some stations spaced more than 2 km
System Highlights and Route Details
Number of lines
2
Total length
44.9 km
Total stations
42
37 plus 7 one-direction platforms downtown
Right of way
5% grade separated
8% underground
Loading
Platform at door level
93 cm above track
Fleet

82 Siemens-Duewag U2 (80 DC and 2 AC)
72 Siemens-Duewag SD-160
38 Siemens SD-160 NG (final delivery mid-2012)
High floor (99 cm above track) with steps
80 km/h top speed

U2 details
Seats 64; 86 standees
24.4 m long
4 double folding doors per side, 1.3 m wide
SD-160 details
Seats 60 - room for 113 standees
24.4 m long
4 sliding/plug doors per side, 1.3 m wide
Click here to see SD-160 brochure (4.4 MB)
Fare collection
Self service, barrier free, proof of payment
Free fare zone downtown
Fare integration
Fares same as bus fares
Transfers valid between each for 90 minutes
Airport service
No direct service
20 minutes on route 57 bus from Whitehorn station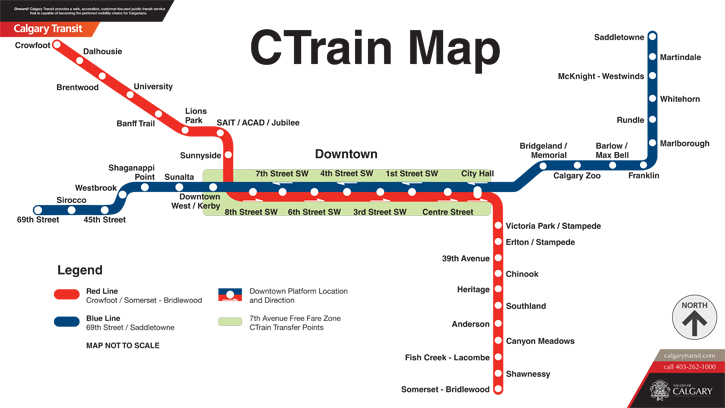 7 Avenue Transit Mall (free fare zone)
Length
2.1 km

Both routes use 7 Avenue where traffic is restricted to transit and emergency vehicles only.

Alternating direction stations exist on each block of 7 Avenue.

Stations

9
4 eastbound only
3 westbound only
2 both directions

Right of way
7 Avenue Transit Mal
Shared only with transit and emergency vehicles
Service frequency
Combined Red and Blue Lines (see below)
Opening
May 25, 1981
Station closings
May 3, 2010
4 St. SW and City Hall until 2011
3 St SE permanently
Red Line - Crowfoot/Somerset-Bridlewood
Length
17.3 km South + 9.6 km Northwest
Stations

19 - plus 7 Avenue Transit Mall

Right of way
South: Fenced right of way parallel to freight line
Northwest: Roadway median and exclusive
Service frequency
3-6 minutes rush hours (5:30-9 am, 2-6 pm)
10 minutes mid-day
10 minutes early evenings (until 9 pm)
15 minutes late evenings (until 1:30 am)
15 minutes early mornings (from 4:30 am)
Opening
May 25,1981
10.9 km south to Anderson
September 7,1987
5.6 km north-west to University
August 31, 1990
1.0 km north-west to Brentwood
October 26, 2001
3.4 km south to Fish Creek/Lacombe
December 15, 2003
3.0 km north-west to Dalhousie
June 28, 2004
3.0 km south to Somerset/Bridlewood
June 15, 2009
3.6 km north-west to Crowfoot
Blue Line - 69th Street/Saddletowne
Length
12.5 km
Stations

16 - plus 7 Avenue Transit Mall

Right of way
Median of roadway with concrete barrier separation
Service frequency
4-7 minutes rush hours (5:30-9 am, 2-6 pm)
10 minutes mid-day
10 minutes early evenings (until 10:20 pm)
15 minutes late evenings (until 1:30 am)
15 minutes early mornings (from 4:30 am)
Opening
April 29,1985
9.8 km north-east to Whitehorn
December 17, 2007
2.8 km north-east to McKnight/Westwinds
August 27, 2012
2.9 km north-east to Saddletowne
December 10, 2012
8.2 km west to 69 Street
Ride Descriptions
| | | |
| --- | --- | --- |
| Red Line | From Crowfoot in the northwest to Somerset-Bridlewood in the south | May 25, 1981 |
| Blue Line | From Saddletowne in the northeast to 69 Street in the west | April 19, 1985 |
Red Line
The trip on the Red Line from Crowfoot to Somerset-Bridlewood that takes approximately 52-55 minutes.
| | |
| --- | --- |
| View of Crowfoot station looking south from the eastern pedestrian overpass. | |
This line starts out in a median right of way of a limited access highway with island platform stations from Crowfoot to University.
Many business located near Dalhousie Station as it brought in a significant amount of customers from around the city. Dalhousie Station Mall was constructed following the arrival of Dalhousie Station.
South of University, the line enters a tunnel to leave the median of Crowchild Trail (Northwest Calgary's main road to the city centre). The line leaves the tunnel just before arriving at Banff Trail, a station with side platforms and a pedestrian grade crossing at its north end.
The line then runs on a right of way adjacent to the street before taking a sharp turn into a tunnel to pass under the roadway and emerge at Lions Park station, a side platform station with pedestrian grade crossings at both ends.
The next stop is S.A.I.T./A.C.A.D./Jubilee (who's actual name is "Southern Alberta Institute of Technology/Alberta College of Art and Design/Jubilee Auditorium). This station has an island platform and a pedestrian grade crossing at the north end of the station.
The next station is Sunnyside, a station with side platforms with a separate grade-level crossing at the south end of the station. Sunnyside was the most controversial station in the network. It was built in a neighbourhood very similar to Toronto's Annex known as Kensington or Sunnyside-Hillcrest. While initially very controversial, today Kensington has become a major commercial and residential hub for the city. The station itself was credited for brining life into the community. Today it would be equally, if not more controversial, to remove the station.
| | | | |
| --- | --- | --- | --- |
| | The pdestrian crossing at Sunnyside Station. | | Southbound departing Sunnyside station. |
South of Sunnyside, the line ascends up onto a bridge across the Bow River, and into the downtown section, which this route shares with Route 202.
The bridge crossing the Bow River has a pedestrian walkway beneath the LRT level.
The 7 Avenue Transit Mall has staggered stations. This means that in each city block, there is a station that serves only one direction of travel, alternating each block. Traveling east, the stations are: 8 Street SW, 6 Street SW, 3 Street SW, Centre Street, and City Hall. The westbound stations are listed in the Route 202 description below.
| | | | |
| --- | --- | --- | --- |
| Northbound train stopped at 6 Ave SW after turned off the 7 Avenue Transit Mall. | | Centre Street station - buses use the transit mall, but do not serve the high-level platforms. | |
Stations along the 7 Avenue Transit Mall have been or are being rebuilt to allow for future 4-car train operation. This rebuild resulted in the permanent closure of the 3 St SE station on May 3, 2010.
East of City Hall station, this line curves off 7 Avenue to the south and enters a tunnel. Once out of the tunnel, the line runs beside MacLeod Trail, to Victoria Park/Stampede station. This is the only stop with three platforms. Track A is southbound, Track B is northbound, and Track C is used after Calgary Flames hockey games and other events.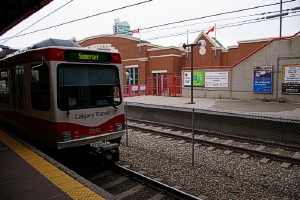 Northbound train leaving Victoria Park Stadium station on Track B; Track C can be seen on the far side.
The line now continues down adjacent to MacLeod Trail, across the Elbow River, and to the south end of Stampede Park, and Erlton/Stampede station, an island platform station.
South of here, the right of way now enters the Cemetery Hill Tunnel and emerges in the north end of Calgary's industrial belt, and arrives at 39 Avenue, a station with side platforms.
From here, the right of way joins the Canadian Pacific right of way on its west side, past factories, refineries and warehouses to Chinook.
Chinook, Heritage, Southland, and Anderson are all island platform stations with raised mezzanines at their north ends and grade crossing pedestrian exits at their south ends.
| | | | |
| --- | --- | --- | --- |
| Chinook station looking north. | Heritage station looking north. | Southland station looking south. | Anderson station looking south. |
South of Anderson, the line rejoins the side of MacLeod Trail, then arrives at Canyon Meadows. With a small raised mezzanines and no pedestrian grade crossing, this station is designed to serve the residential area.
South of here, the line bridges over Fish Creek Provincial Park before arriving at Fish Creek-Lacombe.
The station's island platform is adorned with an old-west railway station design.
South of Fish Creek-Lacombe, the right of way continues alongside the CPR tracks.
Next is a a staggered platform station, Shawnessy. The two platforms are connected with a pedestrian grade crossing, which links the south end of the southbound platform and the north end of the northbound platform.
The next and final stop on the line is Somerset-Bridlewood. This island platform station has pedestrian grade crossings on both ends of the platform, with the crossover to the north of the station.
South of the station, the tracks cross Shawville Gate with short stub ends.
Blue Line
The trip on the Blue Line from Saddletowne to 69 Street takes approximately 45 minutes.
McKnight-Westwinds Station is situated at the intersection of Métis Trail and 64th Avenue. The station has an island platform. Unlike the other stations on the NE Line, McKnight-Westwinds is parallel to Métis Trial and is not in the median. The station has a 949 stall park and ride lot.
McKnight-Westwinds is part of a three part extension to the Northeast LRT. By the fall of 2012, the Northeast LRT will have two more stops, one in Martindale and another in Saddleridge/Saddletowne (the community itself is called Saddleridge but the city cites the new station as Saddletowne).
| | | |
| --- | --- | --- |
| Abstract art at McKnight-Westwinds. | Pedestrian crossing and entrance. | |
The LRT travels parallel to the Métis Trail where it run past the Oliver-Bowen Maintenance Facility. Once completed the facility will be able to hold an additional 65 LRVs. One and half minutes after it leaves reaches the McKnight Blvd and Métis Trail, where Métis Trail becomes 36th Street. Here, the LRT moves to median of 36th Street and travels for another minute and a half until it reaches Whitehorn Station.
The line continues in the median of 36 Street NW with island platform stations at Whitehorn, Rundle, and Marlborough. Whitehorn station has a raised mezzanines to the south end of the station. Rundle and Marlborough stations are of a similar design.
South of Marlborough, the right of way leaves the 36th Street median through a tunnel, emerging onto another median on Memorial Drive. The next stations on Memorial Drive include Franklin and Barlow/Max Bell. Both of these have island platforms, and Barlow/Max Bell has an underground mezzanine.
After Barlow/Max Bell, the line dips into the Bow River Valley and over Deerfoot Trail (an expressway), and curves to a stop at Zoo. As its name implies, this island platform, underground mezzanine station serves the Calgary Zoo.
The next stop is Bridgeland Memorial, serving the residential neighbourhood nearby.
West of Bridgeland/Memorial, the line now flies over a busy intersection between Memorial Drive and Edmonton Trail, crosses the Bow River, and enters the Downtown area. Merging with Route 201 coming out of the tunnel, the line now runs down the 7 Avenue Transit Mall. The first station in the downtown core is City Hall.
Between City Hall station and 10 Street SW station, the Transit Mall has staggered stations. This means that in each city block, there is a station that serves only one direction of travel, alternating each block. The eastbound stations are listed in the Route 201 description above. Traveling west, the stations serving this line are: 1 Street SW, 4 Street SW, and 7 Street SW.
Originally, there was another westbound station, 1 Street SE. When Calgary was awarded the Olympic games, the decision was made to build an Olympic Plaza in front of City Hall for the medals presentation and the station was renamed Olympic Plaza. More recently, Olympic Plaza was closed at the same time as City Hall for reconstruction with 4-car length platforms, and the two single-direction stations were built as one station serving both directions, City Hall.
This line continues west about a half a block beyond where Route 201 turns off to the northwest to the last transit mall stop Downtown West/Kerby. This station is located one block west of where the former terminal of the northeast line was at 10 Street. The name was giving because right next to the station is the Kirby Centre which is a major seniors social club in Calgary.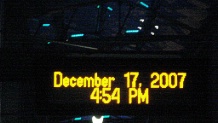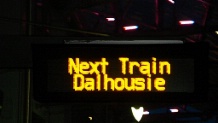 New signs have been installed to tell people which trains is next. There is also a PA announcement once the new train arrives, announcing its destination.
From Downtown West/Kirby, the LRT continues across to the the elevated track above the Shaw Millenium Park to the CP Row to Sunalta station (Calgary's first elevated station). This was the most controversial station on the whole line. It was controversial because the elevated structure was deemed hideous and people preferred an underground station.
From there the train continues elevated until it crosses Crowchild Trail/Bow Trail Interchange where it then continues at grade to Shagganappi Point station. This station is in the median of Bow Trial and is perhaps the most pedestrian accessible station on the system. It connects to the pedestrian crossing on the south end.
The train here continue at grade until it reaches the Westbrook Shopping Centre and it then goes underground to Westbrook station. Westbrook station is constructed on the site of the former Ernest Manning High School.
The LRT continues underground to 17th Avenue where it continues in a trenched ROW to 45th Street station.
It continues at grade where until Sarcee Trial/17th Avenue Interchange where it becomes elevated to cross Sarcee then continues at grade to Sirocco station.
From Sirocco station the LRT continues at grade until shortly after Simcoe Blvd SW where it enters a tunnel, where it moves to the other side of 17th Avenue and continues trenched to 69th Street station (Calgary's first trenched station).
Fares and Fare Collection
Fares are purchased from vending machines on platforms. Adult cash fare is $3.00 - tickets are available at 10 for $30 - a day pass is available for $9 and the monthly pass is $94.
An adult fare must be paid when bringing a dog on board, with the exception of service dogs.
Random fare inspections take place on the LRT. The fine for being caught without a valid fare is $150.
Accessibility
All stations in Calgary have high level platforms for level boarding of trains. All platforms are accessible with either ramps or elevators.
Other Notes
Calgary Transit's original fleet consisted of 83 Siemens U2 LRVs, purchased over three orders: 27 in 1981, 3 in 1983, and 53 in 1984. To date, three of these have been retired due to damage from accidents. The Government of Alberta purchased two AC traction U2 LRVs in 1988, first testing them in Edmonton, and then in Calgary in the summer of 1990. Calgary Transit purchased these for their fleet.
Starting in 2001, a total of 72 SD-160 LRVs were purchased over multiple orders: 15 in 2001, 17 in 2003, 33 entering service in November 2006, and an extension of that order by 7 in December 2007.
In November 2007, an order was placed for 38 LRVs. The new LRVs were Siemens SD-160 Series 8, but have received the designation SD-160 NG.
On May 3, 2010 the 3 Street SE station was closed permanently. This stop was a westbound-only stop, but was replaced when the City Hall stop, had a westbound platform added. The photos to the right were taken on April 27, 2010 - days before the closure.
| | |
| --- | --- |
| Platform heating in a station shelter. | |
Current and Planned Expansion
A western extension for the West LRT to Aspen Woods is being considered.

Other plans that are funded include:

Additional proposed plans include:

South LRT extension from Somerset-Bridlewood to Marquis of Lorne Trail.
New Southeast LRT line.
New North Central LRT line.

Click on the image to the left to see the details of the Calgary LRT Network Plan (6.2 MB).