Background image by page author
This page was last updated
May 14, 2012
Send questions, comments, and photos
here
.

LRT in
Sydney
The LRT in Sydney is owned by Metro Transport, a private company with three main shareholders. Operation of the LRT system is contracted to Veolia NSW, a division of the global Veolia Transportation (the operator of VIVA in York Region).
Contents
Toronto Comparison
Sydney's LRT demonstrates a number of features not common on many LRT systems, but nevertheless show the flexibility of LRT. This includes making use of former railway right of way infrastructure, and direct service into the property of local attractions.
A recent issue in Toronto's news, station naming rights, has been used when the former LRT station named Haymarket and former monorail station named Powerhouse Museum were both renamed Paddy's Markets in July 2005.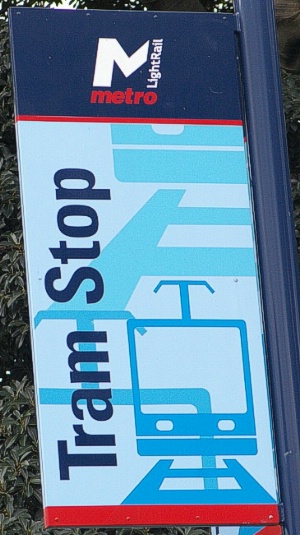 System Highlights and Route Details
Number of lines
1
Total length
7.2 km
Total stations
14
Right of way
1.5 km on-street in reserved lanes
Remainder on former freight railway right of way,
with some tunneled sections
Loading
Platform at door level (30 cm above track)
Fleet
7 Variotram vehicles by Bombardier Transportation
Vehicle design extended to 5-sections
Seats 74 passengers, room for 143 standees
29 m long
3 double plug doors per side
80 km/h top speed (20 km/h for on-street operation)
Fare collection
Personnel on board to collect fare
Fare integration
Some media provides access to other modes
Airport service
Connection by train from Central Station

Route Details
Length
7.2 km
Stations
14
Service frequency
24-hour service between Central and Star City:
10-15 minutes between 6 am and midnight
30 minutes between midnight and 6 am
Service to Lilyfield:
10-15 minutes from 6 am until 11 pm Sunday-Thursday
10-15 minutes from 6 am until midnight Friday and Saturday
Opening
August 31,1997
Central Station to Wentworth Park - trial service began August 11
August 13, 2000
Wentworth Park to Lilyfield
Ride Descriptions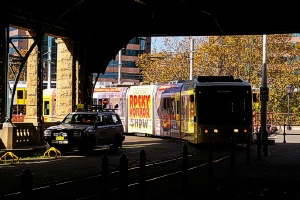 Arriving at Central.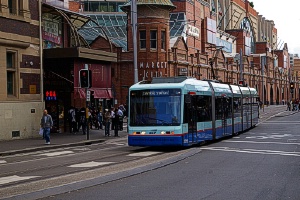 Inbound approaching Capitol Square at George Street.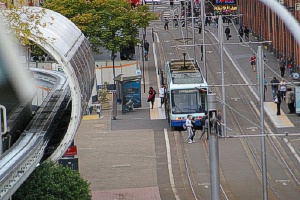 Inbound stopped at Paddy's Markets. This view looks right through the Paddy's Markets Monorail station.
The trip from Central to Lilyfield takes approximately 23 minutes.
The east end of the LRT line has a loop that enters a covered platform at Central Station. Inbound trams continue east on Hay Street past Pitt Street for one block to enter Central from the east end. After leaving Central, the line returns to Hay Street on the east side of Pitt Street. As Central is on a loop, it is a single track station, with trams passing through the station where boarding is on its left.
| | |
| --- | --- |
| Inbound on Hay Street just east of Pitt Street. | Outbound from Central returning to Hay Street. |
The LRT travels exclusively on Hay Street from Pitt Street to Darling Drive, first stopping at Capitol Square on the east side of George Street.
The next stop is at Paddy's Markets a few hundred metres east of Darling Drive. This part of Hay Street is reserved for LRV and bicycle traffic, though limited automobile traffic is permitted on short sections for laneway access.
| | |
| --- | --- |
| Inbound leaving Paddy's Markets. | Outbound arriving at Paddy's Markets. |
With the exception of the two terminal stations, all stations have side platforms, most barely long enough for two LRVs. Currently, Metro LightRail only operate LRVs alone, though tests with up to three coupled have been done.
| | | |
| --- | --- | --- |
| Outbound after stopping at Darling Drive, where the line leaves enters the private right of way. | Inbound stopped at Darling Drive, waiting for signal to proceed. | Inbound crossing Darling Drive from the private right of way. |
The west end of Hay Street ends at Darling Drive, but the LRT continues on a former railway right of way, curving to the north immediately after crossing Darling Drive. From this point, the line runs on ballasted tie track for the remainder of the line, following the former right of way of the Darling Harbour Goods Line, a freight railway that closed on January 22, 1996.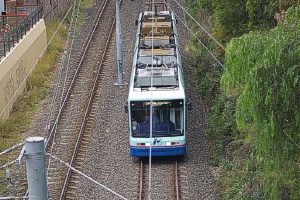 Inbound approaching the end of the former railway right of way between Exhibition and Paddy's Markets.
The first stretch of the line, past Exhibition Centre and Convention stations, parallels the monorail line. Convention is the last stop in fare zone one.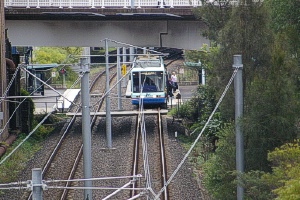 Inbound stopped at Exhibition.
Just before arriving at the next station, Pyrmont Bay, the line becomes covered. It would be incorrect to say that this was a tunnelled section of the line, though there are a few short sections of tunnel or underpasses. Much of this part of the line has buildings built over it.
| | | |
| --- | --- | --- |
| Inbound leaving Star City. | Inbound platform sign at Star City. | Outbound leaving Star City. |
The covered part of the line continues to just past Star City, the station located beneath the Star City Casino. This station, though covered by the casino building, is open to its northeast side as the inbound platform is shared by buses on its other side. This, along with Central, are the only stations with a longer than usual platform.
The line emerges from the covered section to pass through a deep cut with high vertical rock walls. The John Street Square station is in this cut section, which continues on to the next station, Fish Market. A short section between John Street Square and Fish Market is covered.
| | |
| --- | --- |
| Inbound at Fish Market. | |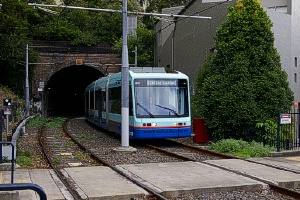 Inbound approaching Glebe after leaving tunnel.
Fish Market station is located in a cut partly under the Western Distributor Freeway on its approach to the ANZAC Bridge that spans Johnstons Bay. The line continues in a cut to the next station, Wentworth Park, though no longer in a rock cut. Wentworth Park was the original western terminus of the LRT when it first opened in 1997. Past Wentworth Park, the line is elevated above the surrounding terrain, with part of that elevation on a viaduct.
The next station is Glebe. After Glebe, the line enters a tunnel that is just over 700 metres in length that passes under mostly residential neighbourhoods.
At the west end of the tunnel is Jubilee Park. This station is located next to two waterfront parks, Federal Park and Bicentennial Park, overlooking Rozelle Bay.
| | | |
| --- | --- | --- |
| Outbound arriving at Jubilee Park. | Inbound arriving at Jubilee Park. | Plaque commemorates extension to Lilyfield in 2000. |
West of the stop at Jubilee Park, the line curves to the northwest over a viaduct overlooking the two parks. After the viaduct, the line curves again to the west and arrives at the Rozelle Bay station. After Rozelle Bay, the line curves again to the southwest for a few hundred metres before curving again to the west.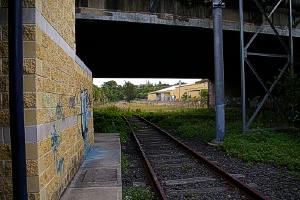 Track beyond Lilyfield station - plans are in the works to extend the line another 4 km.
LRV at Lilyfield.
About 150 metres before arriving at Lilyfield, the line merges into a single track and proceeds under City West Link Road at an obtuse angle. Much of the Lilyfield station is under this elevated road. Only the tail end of the station, to the right of the LRT line is uncovered.
Fares and Fare Collection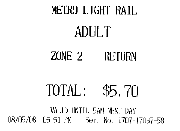 Return ticket scan.
LRVs are staffed by two Metro Transit employees, one operator and one fare collector. Fares are paid on board to the fare collector who can make change and issue the proof of payment using a handheld electronic terminal.
Operation is divided into two fare zones, with Central to Convention in one zone, and Pyrmont Bay to Lilyfield in the second zone.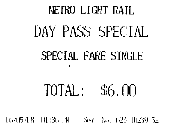 Day pass ticket scan.
One-way fare in a single zone is A$3.50 and for two zones is A$4.50 while a return fare in a single zone is A$4.90 and for two zones is A$6.00 - the Canadian dollar is roughly on par with the Australian dollar.
A weekly pass is available for A$22 that covers both zones, and for A$31 that also covers travel on the monorail as well. Day passes are available for A$9.00 for an individual covering both zones. For A$15, a day pass is available that includes the monorail plus discounts at various attractions.
There is no monthly pass, but an annual pass sells for A$924.
Accessibility
All LRVs are low floor with level platform boarding.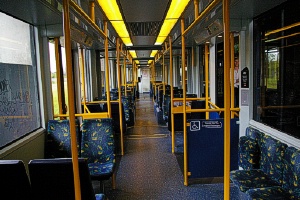 LRV interior.
Other Notes
It is common to see cleaning staff throughout the system as they travel from station to station with a cleaning cart and perform light cleaning duties while onboard trams.
Current and Planned Expansion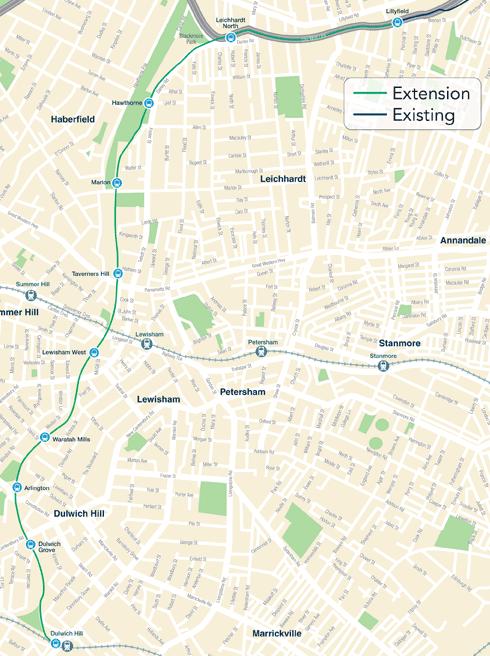 Dulwich Hill
In February 2010 the NSW Government announced the extension of the light rail from Lilyfield to Dulwich Hill, using the right of way of the recently closed freight line between Rozelle and Dulwich Hill. This extension would be about 5.6 km in length and add nine stations. Costs of this extension have risen to $176 million from 120 million, though this new cost is $31.5 million per kilometre.
Work to upgrade the track and remove the overhead wiring began in August 2010. The project received planning approval in February 2011. The extension was originally scheduled to open in 2012, but in September 2011 the Government announced that it would not open until 2014.
Other Proposals
In February 2010, the NSW Government announced a new line from Haymarket to Circular Quay via Barangaroo. As of September 2010, the final route had not yet been decided, with the three options being to send the line North from Central via George Street, Sussex Street or a loop using both. The Government has committed to building a line through the CBD, with a connection to Barangaroo. The preferred route will run along George Street.
Several transport corridors have significant potential to allow for the growth of the network beyond its current route structure. The State Government has committed to conducting feasibility studies into the construction of lines from the City to Sydney University and the City to the University of New South Wales. In December 2011, the Government announced shortlisted potential routes for these extensions.
The City of Sydney Council has also recommended that a Light Rail link be built from the city to Green Square, to service the commercial and residential developments currently being constructed in the area.
In March 2012, the NSW Premier announced the the monorail would be demolished "as soon as feasible" but could be in 2014 or 2015. It is expected that Light Rail expansion will replace the function of the monorail.