LRT in
Region of Waterloo
ION light rail service started on Friday, June 21, 2019 making it the first operating LRT system in the Province of Ontario. Running between Conestoga station in Waterloo and Fairway station in Kitchener, the route has a total of 19 stations along the route.
Grand River Transit provides transit service in Kitchener, Waterloo, Cambridge, Elmira, St. Jacobs and New Hamburg. In addition to ION LRT, GRT operates conventional buses, an express bus network, busPLUS service for community routes, and door-to-door transit service for riders with disabilities using specialized vehicles.
Contents
Toronto Comparison
ION is perhaps one of the best examples of an LRT system that is most comparable to the Toronto area. Partly due to its vicinity to the GTHA, and partly because the vehicles used were ordered as part of the Bombardier Flexity Freedom order that Metrolinx has for LRVs to be used on the Crosstown line. These vehicles are nearly identical to the Crosstown LRVs, the main differences are the different livery and the ION vehicles will have full operator's cabs at each end, while the Crosstown LRVs will only have a hidden control panel at one end as the cars will be run in two-car sets initially. Except for one production vehicle and two prototypes assembled in Thunder Bay, the 13 other LRVs for ION were assembled at Bombardier's facility in Millhaven, Ontario.
ION uses some alignments that will be used in Toronto, such as centre-of-the-road and side-of-the-road right of ways, and a few right of ways that are totally separate from road traffic. It also uses some alignments that are not planned at this time for any LRT lines in Toronto such as curb-lane running, and shared track with a freight railway.
System Highlights and Route Details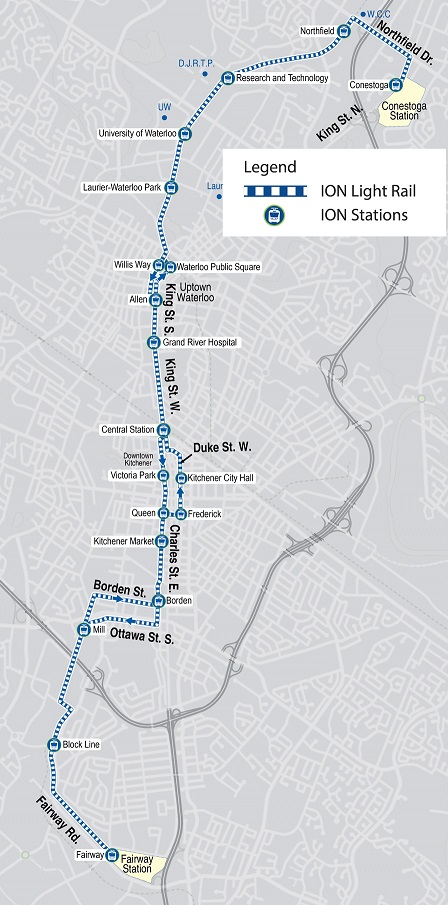 Number of lines
1
Total length
19 km
Total stations
19
3 are southbound only, 3 are northbound only
Loading
Low level platform with level boarding
Platform 20 cm above track
Fleet
14 Bombardier Flexity Freedom LRVs
Seats 56 - room for 144 standees
30.8 metres long
4 doors per side
80 km/h top speed
100% low floor
4 luggage racks and 4 bicycle hangers per car
Fare collection
Self service, barrier free, proof of payment
Fare integration
Fully integrated with GRT bus and express bus service. Single fare good for 90 minutes of travel.
Route 301
Length
19 km
Stations
19
Right of way
A mix of centre-of-road separated right of way, curb lane, side-of-road running, and private right of way.
Service frequency
8 minutes during rush hours
15 minute service off-peak
Opening
June 21, 2019
Ride Description
Please note streets and directions can be a bit confusing in Kitchener and Waterloo. Main roads in Kitchener tend to be on a northwest-southeast axis, with some roads crossing perpendicular, but not all. In Waterloo, streets tend to align closer to north-south and east-west, but there is not a consistent grid. In both cities, many road names will have a compass direction suffix (North, South, East, West) whether or not they are on a diagonal. Where the LRT route travels on King Street, the suffix changes from West in Kitchener to South in Waterloo.

The LRT route, officially designated Route 301, starts at the south end of the route at Fairway Station in Kitchener. The station is basically on an east-west alignment at the south-east end of Fairview Park Mall. The station has three platforms. Platforms 1 and 2 form side platforms on each side of the two tracks, while platform 3 is for buses. Connection can be made to and from Iexpress Route 302 to Ainslie in Cambridge, where Phase 2 of ION will be extended to.

The route departs to the west, passing a scissors cross-over and crossing Wilson Avenue at a railway style level crossing. Travelling about one kilometre on a private right of way, the line separates retail businesses on its south side from a residential neighbourhood on its north side. At this point, the line crosses Courtland Avenue East with another railway-style crossing and curves to the north-west to take a side-of-the-road alignment to follow Courtland. The line follows Courtland Avenue for about 600 metres before crossing Block Line Road where it meets Courtland at a T-junction.

On the other side of the intersection is Block Line Station, with centre island platforms situated on a northwest-southeast alignment. Continuing northbound from Block Line Station, the line maintains a side-of-the-road alignment along Courtland Avenue for another 450 metres before it makes a slightly greater than 90 degree turn to the west to follow on the south side of Hayward Avenue for about 150 metres. The line then makes a less-than 90 degree turn to the northwest and crosses Hayward Avenue with railway crossing protection that is shared with a single track freight railway.

The line follows along the railway right of way for about 1.1 km, passing under Conestoga Parkway (Highways 7 and 8) about 600 metres northwest of Hayward. Just before reaching Ottawa Street South, the line reaches Mill Station. Just south of Mill Station, there is a turn-back crossover with trailing point switches for turning back LRVs when needed. Mill Station has centre island platforms. Between Mill Station and Borden Station, each direction of the line take different routes.

Northbound trains turn to travel on Ottawa Street South in the right-hand curb lane for about 1 km. At Charles Street East, the line turns left to follow Charles Street northwest, also in the right-hand curb lane. After about 200 metres at Borden Avenue South, the track shifts to the centre of the road to arrive at Borden Station.

Southbound trains leaving Borden Station make a right turn to head southwest on Borden Avenue South in the right-hand curb lane for about 900 metres. At this point, the track leaves the road and curves to the left to head southeast alongside the freight railway right of way for about 300 metres before reaching Mill Station.

Heading north from Borden, the line follows the middle of Charles Street East for about 800 metres before arriving at Kitchener Market Station just southeast of Cedar Street South. One block before Kitchener Market Station, there is a turn-back crossover with trailing point switches. From Kitchener Market Station, the line continues down the middle of Charles Street East, the line continues about 300 metres before the northbound and southbound tracks take different routes to get to Central Station.

1

Northbound trains make a right turn at Benton Street to travel northeast down the middle. After one block, about 100 metres, Benton Street becomes Frederic Street when it crosses King Street East. In the next block is Frederick Station. After Frederick Station, the line makes a left turn to the right-hand curb lane of Duke Street East. Traveling for about another 300 metres, the northbound train reaches Kitchener City Hall Station just before Young Street. Trains continue on Duke Street for about another 300 metres where they make a left turn to the left-hand curb lane (counter flow with other vehicles) of Francis Street South for about a 100 metre block to King Street West, where a right turn is made to the right-hand curb lane of King Street.

The line reaches Victoria Street North in about 150 metres where the southbound track returns on the other side of the road. Central Station has separate curbside platforms between Victoria Street and the railway underpass to the west-northwest.

Southbound trains from Central Station to Kitchener Market station turn right at Victoria Street to its right-hand curb lane for one block to Charles Street West where it turns left to follow the right-hand lane of Charles. In about 450 metres, the train arrives at Victoria Park Station just before Gaukel Street.

Continuing in the right-hand curb lane of Charles Street West for another 400 metres, the train arrives at Queen Station in the block between Queen Street South and Benton Street. Passing through the intersection at Benton Street, the track shifts from the right-hand curb lane to the middle of the road where it is joined by the northbound track and continues for about 400 metres to Kitchener Market Station.

Continuing north from Central Station, both directions are in the right-hand curb lane as they pass under the railway underpass for about 150 metres to Moore Avenue. LRVs receive a traffic signal to move through the intersections while other vehicles are held at a red light.

Heading northwest on King Street West, the line travels for about 950 metres before reaching Grand River Hospital Station, another centre of road station with centre island platforms located in front of the main entrance to the hospital. Two blocks south of Grand River Hospital Station, just south of Green Street, there is a turn-back crossover with trailing point switches. About 150 metres northwest of Grand River Hospital Station, King Street West becomes King Street South as the border between Kitchener and Waterloo is crossed at Union Boulevard/Union Street East.

Continuing 600 metres on King Street from Grand River Hospital Station, the line reaches Allen Station, another centre of road station with centre island platforms in the block between John Street West and Allen Street West. At Allen Street, the northbound and southbound tracks split apart for the third and final time on the trip.

Northbound trains shift from the centre of the road to the right-hand curb lane while passing through the intersection with Allen Street. The route continues on King Street, where the street's alignment curves from heading north-west to heading north at William Street. A distance of about 450 metres is travelled from Allen Street to where the tracks curve to the left and cross King Street at the north end of Waterloo Public Square to parallel the south side of a freight railway line.

About 50 metres west of King Street, trains arrive at the Waterloo Public Square Station. A little more than 100 metres west of Waterloo Public Square Station, the freight railway line joins the LRT line as the line curves to a west-northwest alignment before crossing diagonally through the intersection of Erb Street West and Caroline Street and continues on a private right of way. It is here where the southbound track joins the alignment of the northbound track and travels about 800 metres before reaching Laurier-Waterloo Park Station just before Segram Drive. Just past the Erb/Caroline intersection, there is a turn-back crossover with trailing point switches for turning back LRVs when needed. Another 50 metres or so beyond the intersection is a facing-point crossover for freight traffic to cross from the east (northbound LRT) track to the west (southbound LRT) track. From here until just south of Northfield Station, freight operations share the southbound track with the LRT. Freight operations only occur at night when the LRT is not operating.

Southbound trains from Laurier-Waterloo Park Station enter the Erb/Caroline intersection alongside the northbound track, but curve to the right to follow Caroline Street South in the right-hand curb lane. A little over 250 metres southeast of the intersection, the line arrives at Willis Way Station just before Alexandra Avenue. The line continues for another 400 metres until Allen Street West where it turns left onto Allen Street in the left-hand curb lane (counter flow with other vehicles) for about 100 metres where it returns to King Street with the northbound track.

Laurier-Waterloo Park Station has centre island platforms with a northwest-southeast alignment located between parkland and recreational facilities. Since the southbound track is used by a freight railway during the night, this track has a gauntlet at each station to shift freight trains away from the platform for sufficient clearance.

The line continues in the northwest direction for about 700 metres to University of Waterloo Station, about 300 metres northwest of a level crossing with University Avenue West. This station has a similar look to Laurier-Waterloo Park Station. In addition to GRT bus routes, the station is serviced by GO Transit's route 25 to Square One in Mississauga.

From just south of University of Waterloo Station and continuing slightly to the north, the line curves from heading northwest to heading north-northwest. It continues a little over 900 metres, with level crossings at William Tutte Way and Columbia Street West before reaching Research and Technology Station, another station with a similar look as the last two stations.

The line's alignment continues to curve more to the east to reach a north-northeast alignment before curving back west before reaching Northfield Station, about 1.7 km north of Research and Technology. Along the way, the line has level crossings at Bearinger Road, a pedestrian crossing about 100 metres north of Bearinger Road and another a little more than another 100 metres further north. The line passes under Weber Street North before passing the ION Operation, Maintenance, and Storage facility. Just north of this, the freight railway branches off the southbound track on the west side of the line. Immediately north of the freight line departure, there is a facing-point crossover for turn-backs and for LRVs needing access to the storage facility from the southbound track.

Northfield Station is located just south of Northfield Drive West where the freight railway crosses it. The LRT line makes a right turn to the median of Northfield Drive to head in an east-northeast direction. Travelling down the median of Northfield Drive, the route passes over Conestoga Parkway (Highway 85) and continues to King Street North, for a distance of just under 1 km.

At King Street, the line turns left and heads in a southeast direction for about 150 metres to Conestogo Road. Through the intersection, the line curves to the east to leave the road at the southeast corner of the intersection where it passes over a scissors crossover before arriving at Conestoga Station. The platform at Conestoga Station is long enough to stable additional trains beyond the normal passenger boarding area of the platform.

Conestoga Station is located along the southwest edge of the parking lot at Conestoga Mall.
Fares and Fare Collection
A single fare may be purchased from the fare vending machines located at all stations. A ticket/transfer is good for unlimited rides on trains and buses within 90 minutes from the time it was issued. It must be scanned on the fare vending machine or the platform card reader before boarding. Multi-ride cards are also available and are good for 5 to 15 fares. The card is then scanned the fare vending machine or the platform card reader before boarding.
For regular users, the EasyGO fare card may also be purchased at the fare vending machines, as well as being reloaded with money. Tapping the card at a reader at an ION station or when boarding a bus will deduct a fare when initially tapping for a 90-minute period.
Cash fare is also accepted on buses and a transfer valid for a duration of 90 minutes is issued. University students have a U-pass and students at Conestoga College have a pass that is simply tapped like an EasyGO fare card.
Cash and single fare for adults is $3.25 while using the EasyGO card is $2.76. A day pass is $8.00 and is useable by a single adult on weekdays, or by one or two adults with children (up to five in the group) on Saturdays, Sundays, or Statutory Holidays. A monthly pass is available for $86.
Accessibility
The Bombardier Flexity Freedom LRVs are 100% low floor, so access is simple to all trains as platform height matches floor height at vehicle doors. Platforms in the middle of the road are designed to meet the road level.
Other Notes
ION LRT uses white bar signals at traffic intersections, leaving coloured light signals for the exclusive use of other vehicles. A vertical white bar indicates that the LRV may proceed, while a horizontal white bar indicates the LRV should stop. A couple of seconds before a vertical bar extinguishes and the horizontal bar lights up, the horizontal bar will begin to flash to give the operator advance notice of the signal change.
In some places, turn restrictions exist when an LRV is approaching or in the area. To accommodate this, a signal is used to convey this information to other vehicles on the road. When the restriction is needed, the turn restriction sign will blink for a few seconds before staying on. During this time, the operator of the LRV approaching will see a white bar signal showing a horizontal bar and it will begin to flash as well. Once the turn restriction signal has been displayed without flashing, the bar signal will change to indicate the LRV may continue. These turn restriction signals are not only used at signalled intersections, but are used in other locations where vehicle traffic may need to cross tracks, such as the entrance to a driveway or parking lot where the tracks are in the curb lane.
Current and Planned Expansion
Phase 2 of ION will extend the service south to Ainslie in Cambridge. This part of the service is currently being operated as route 302 of the iExpress bus network. Phase 2 is expected to open in 2023.