LRT in
Edmonton
The LRT system in Edmonton was the first of the modern generation of light rail systems in North America, initially opening in 1978. Collectively ordering vehicles with Calgary and San Diego, those other two cities did not open their systems until 1981.
Operated by ETS under the municipal government, there currently is only one line. Once known as Route 201, now timetables and maps label it "LRT Route". The line runs from north east of the downtown area, underground through downtown, then crosses the North Saskatchewan River heading south.
Contents
Toronto Comparison
The LRT in Edmonton predates low floor technology, so it uses high floor vehicles with high platform loading to accommodate accessibility. While new implementations in Toronto will be low floor for accessibility, the Edmonton LRT provide a good example of the ways that the ROW can be implemented:
Fenced-in surface right of way with level road crossings
Separated median in roadway
Tunnel sections where street running is not practical
System Highlights and Route Details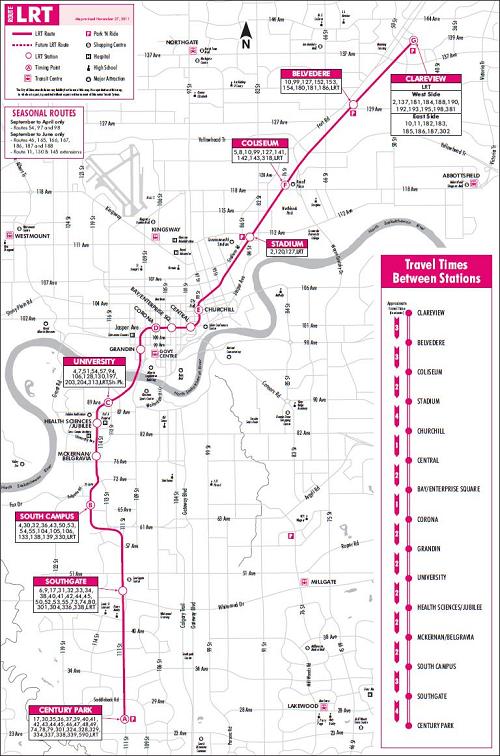 Number of lines
1
Total length
21 km
Total stations
15
Right of way
Loading
Platform at door level (93 cm above track)
Fleet

37 Siemens-Duewag U2
Being overhauled by Bombardier
33 Siemens SD-160

All have 80 km/h top speed and
100% high floor

U2 details
Seats 64 - room for 97 standees
24.4 m long
4 double folding doors per side
(1.3 m wide)
SD-160 details
Seats 60 - room for 121 standees
24.8 m long
4 double plug doors per side (1.3 m wide)
Fare collection
Self service, barrier free, proof of payment
Fare integration
Fares same as bus fares
Transfers valid between each for 90 minutes
Airport service
No direct service
Route Details
Length
21 km
Stations
15
Right of way
Fenced right of way parallel to freight line with 7 grade crossings
Tunnelled downtown
Side of road right of way with 3 road grade crossings plus pedestrian crossings
Median right of way
Service frequency
5 minutes rush hours
10 minutes mid-day and Saturdays
15 minutes evenings and all day Sundays
Opening
April 22,1978
6.9 km from Central to Belvedere
April 26, 1981
2.2 km extension to Clareview
June 21, 1983
0.8 km to Corona
September 1989
0.8 km to Grandin
August 23, 1992
1.6 km to University (single track South Portal to University)
May 14, 1994
Second track South Portal to University
January 3, 2006
South extension to Health Sciences
April 25, 2009
2.3 km to South Campus
April 24, 2010
5.5 km to Century Park
Ride Descriptions
In Edmonton, Avenues run east-west, increasing in number from south to north, and Streets run north-south, increasing in number from east to west.
The trip from Clareview to South Campus that takes approximately 24 minutes.
All stations in Edmonton have island platforms, and most were built for a maximum train length of five cars, though trains currently run with three cars. The newest stations on the southern extension were to be initially built with shorter platforms that would be extended at a later time, but federal infrastructure funding enabled them to be built to a full five car length.
The line starts northeast of downtown near 139 Avenue and 42 Street at Clareview station. This station has a bus terminal on its east side and another on its west side. It also has 1372 parking spaces that are free to use, including five premium spaces for car pool users. This station is entirely enclosed, meaning that the roof of this station covers the entire platform length and covers the tracks.
The line shares its right of way in this area with a railway line on its west side. Upon leaving Clareview, the line travels a couple of hundred metres before passing under 50 Avenue and reach where the crossovers are located. Just south of here the line passes under 137 Avenue and passes the maintenance facility that is on the east side of the line.
2.2 km down the line is Belvedere station near 129 Avenue and 58 Street. It was the original northern terminus of the line when it first opened in 1978. It remained the terminus until Clareview opened in 1981. Belvedere has parking for 780 cars, including five premium spaces for car pool users. Belvedere is also an entirely enclosed station.
Immediately southwest of Belvedere is the line's first level crossing at 129 Avenue. This is a three track crossing for traffic on 129 Avenue as the west track is the parallel railway and the two others are the LRT. About 550 metres south of 129 Avenue, the line enters a short tunnel, a little over 100 metres long, as it passes under an east-west railway line. About another 100 metres past the tunnel, the line has a level crossing with 66 Street.
The total distance to the next station is about 2.2 km, at Coliseum station, where the Rexall Place is located at 118 Avenue and Wayne Gretzky Drive. Coliseum is not entirely enclosed as its roof only covers part of the platform's length (see photo to the left), however it does extend over the tracks. The southern end of this station's platform is on a bridge over 118 Avenue. Rexall Place is located on the east side of the line.
Heading southwest from Coliseum, the line's next three level crossings are at 115 Avenue, 82 Street, and 112 Avenue. After travelling about 1.4 km, the line reaches Stadium station, next to Commonwealth Stadium (west of the line) near 112 Avenue and 86 Street. This station has its own parking lot (separate from the stadium's parking) for 468 cars, including five premium spaces for car pool users.
The line continues southwest with level crossings at 92 Street and at 95 Street. About 50 metres southwest of the level crossing with 95 Street, the line reaches the east portal of the downtown tunnel. This is roughly about 1.4 km from Stadium station.
About the first 150 metres of the tunnel is a box structure partly above ground before it is fully below grade just east of 96 Street. When the tunnel reaches under the area where 104 Avenue and 99 Street would meet (these streets end before meeting), the line curves to a north-south orientation and follows under 99 Street to Churchill station, located between 102A and 102 Avenues. The total distance from Stadium to Churchill is roughly 2.3 km.
Immediately south of Churchill, the line makes a 90 degree turn to the west, aligning itself with Jasper Avenue where it reaches the first station on the east-west part of the line, Central Station, located at 101A Street on Jasper Avenue.
The next station, Bay/Enterprise Square is about 400 metres west of Central between 103 and 104 Streets on Jasper Avenue. Corona station is another 400 metres west at 107 Street.
Bay/Enterprise Square and Corona stations have similar looks, as they were built as part of an 800 metre extension from Central that opened in June 1983.
Immediately west of Corona station, the line makes another 90 degree turn to head south down 110 Street where it reaches Grandin/Government Centre station at 98 Avenue. This 800 metre extension opened in September 1989.
| | | |
| --- | --- | --- |
| View heading north from the portal on the south side of the valley. | View heading north just after the curve. | Heading north on bridge as a southbound train passes. |
Just south of Grandin/Government Centre, the line curves slightly southwest and emerges through a portal on the side of the valley wall of the North Saskatchewan River where it begins a bridge crossing. This bridge heads straight for about 450 metres, about 60 metres west of the High Level Bridge before curving further to the southwest. The High Level Bridge is at the height of the valley and has a top deck with a railway line on it and lower level with southbound traffic on it.
At the south end of the 450 metre straight section of the bridge, almost directly above the south bank of the river, the LRT bridge curves to a more southwest alignment for about another 250 metres where it enters a tunnel portal on the south side of the valley.
| | | |
| --- | --- | --- |
| Southbound train entering University station. | Southbound train at University station. | Northbound train arriving at University station. |
The line continues the southwest alignment to the University station located at 89 Avenue and 112 Street. This extension across the river opened in August 1992, but with only a single track from the south valley portal to University station. A second track was added and began service on May 14, 1994.
The next extension was about another 700 metres that opened on January 3, 2006. The line continues on the same alignment until 114 Street where it curves south. About 100 metres south of 87 Avenue, the line emerges from the tunnel on the west side of 114 Street near the University of Alberta Hospital and the Northern Alberta Jubilee Auditorium.
The line continues for about another 150 metres where it reaches the Jubilee/Health Sciences station immediately north of 83 Avenue. The Jubilee/Health Sciences station is a surface station with room for a five-car platform, though the platform is only about four cars long, and the roof, which only covers the platform, is about three cars long.
From Jubilee/Health Sciences station, the line continues on the west side of 114 Street with level crossings at 83 Avenue and University Avenue, along with a pedestrian crossing that is signalised about half way between those crossings.
The line reaches McKernan/Belgravia station just north of 76 Avenue, about 900 metres south of Jubilee/Health Sciences.
From McKernan/Belgravia station, the line continues just west of 114 Street until just before 71 Avenue where 114 Street curves to the east. About 700 metres south of McKernan/Belgravia station, the line curves a bit to the west and enters a short tunnel about 100 metres in length to pass under 71 Avenue and one other road. South of the tunnel, the line travels about another 500 metres as it curves south again and arrives at South Campus station roughly in line with 65 Avenue.
The alignment continues south to about 61 Avenue where it makes a turn to the east for a short distance passing under 60 Avenue. Just before 111 Street, it begins to curve south and enters a short tunnel to pass under the southbound lanes of 111 Street and emerges in a wide median of 111 Street just north of 57 Avenue. The remainder of the extension is in the median of 111 Street all the way to Century Park station, just north of 23 Avenue.
The median of 111 Street is significantly wider than the LRT tracks, and at each intersection with crossing roads, the median is protected by railway crossing gates. Traffic may make left turns on signals interlocked with the crossing gates, but must do so by keeping to the left of any left turning traffic in the other direction. Signs are posted to remind left turning traffic of this requirement since the width of the median tends to have drivers attempt to reach the right-side of the cross street as soon as possible.
Fares and Fare Collection
Fares may be purchased from vending machines on platforms or in station mezzanines as well as at over 200 locations throughout the city including city recreation centres.
All single fares are $3.00 and are good for 90 minutes of travel in any direction with stop overs. Fares from vending machines serve as a proof of payment, while transfers may be obtained when paying a fare on a bus. Fares are valid for 90 minutes for boarding any bus or LRT.
A book of ten tickets may be purchased for $22.80, a day pass is available for $8.55, and a monthly pass is $84.65.
Failure to show proof of payment can result in a fine of $250.
Accessibility
All LRT trains and all public areas within Edmonton Transit's LRT facilities are accessible. Station Entrances designated as accessible have automatic door openers. Access to LRT platforms from street level is via ramps located at each end of the platform or by elevator.
For more information, see this page.
Other Notes
The original fleet consisted of 15 Siemens-Duewag U2 light rail vehicles. These vehicles were originally developed for the Frankfurt U-Bahn system (a subway/metro system) and their design was adapted for light rail use when the cities of Edmonton, Calgary, and San Diego required light rail vehicles when few manufacturers were building them. With two additional orders for the U2, Edmonton's fleet grew to 37 of this model.
The Government of Alberta purchased two AC traction U2 LRVs in 1988, first testing them in Edmonton, and then in Calgary in the summer of 1990. Calgary Transit purchased these for their fleet.
Between 2005 and 2007, ETS ordered 37 Siemens SD-160 light rail vehicles. The first of these entered service on January 27, 2009. The specifications of Edmonton's SD-160 can be viewed here (4.4 MB).
Current and Planned Expansion
North Expansion
Construction of a 3.1 km branch northwest from Churchill station to the Northern Alberta Institute of Technology (NAIT) is underway and is expected to be open in April 2014 (see map to the left).
This project was first announced on April 27, 2007 but was not fully approved until November 2010. However, in April 2008, city council did approve $45 million in funding to build a tunnel under the EPCOR Tower site at that time while it was still under construction, as it was determined that the cost of building the tunnel after the tower was constructed would be an additional $140 million.
Northeast Extension
On April 30, 2009 it was announced that the northeast line to Clareview would be extended by one stop, Gorman Station. Preliminary engineering was completed in 2010, and once funding is in place this extension will be built. At this time, priority is focussed on the project to NAIT and plans for a southeast to west LRT corridor.
This extension would be about 2.9 km in length and cost about $210 million.
Long Term Plans
A full LRT network is in the planning stages for the long term. This would include new lines to the west (with a stop at the West Edmonton Mall), east, and southeast that would use low floor technology.
In addition to new lines, extensions to current lines are part of this plan that would see the now under construction branch to NAIT be extended further north and northwest, the northeast extension described above and beyond, and a further south extension.