Background image by page author.
Updated photos and information courtesy of James Greenhalgh.
This page was last updated
October 14, 2012.
Send questions, comments, and photos
here
.

LRT in
Buffalo
The transit system in Buffalo and surrounding area is operated by the Niagara Frontier Transportation Authority. In addition to the bus and LRT operations (known as Metro Bus and Metro Rail respectively), NFTA is responsible for the Buffalo Niagara International Airport, the Niagara Falls International Airport, and the Buffalo Harbor operations. LRT trains operate in 2 or 3 car consists.
Contents
Toronto Comparison
LRT operations in Buffalo are rather unique in that they border on being a mini-HRT system using LRT equipment, though the vehicles are not articulated. The underground part of the system more closely resembles an HRT subway system with high level platforms, while the Main Street transit mall has curbside boarding using steps.
System Highlights and Route Details
Number of lines
1
Total length
10.24 km
Total stations
15
Right of way
Transit/pedestrian mall: 1.92 km
Underground: 8.32 km
Loading

Underground: high-level platforms for level boarding
Transit/pedestrian mall: retractable steps for most doors;
front door on each train uses high-level platform

Fleet
26 Tokyu Car Corporation LRVs
Seats 51 passengers; room for 89 standing
20.4 m long
3 sliding doors per side
80 km/h top speed
High floor for 100% of seating space
Underground stations have high-level platforms
Steps are deployed at doors for street-level stations
Fare collection
Self service, barrier free, proof of payment
Free fare zone downtown
Fare integration

Transfer to/from buses will no longer be free after May 1, 2012

Airport service
No direct service
Connections via bus routes to Buffalo-Niagara Airport
and Niagara Falls Airport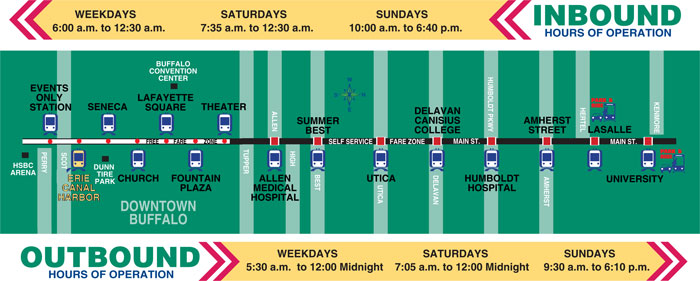 Route Details
Length
10.24 km
Stations
14 full time
1 "Special Events" station near HSBC Arena
Service frequency
7 minutes rush hours (6:30-8:30 am, 2:10-5:20 pm)
12 minutes (5:30-6:30 am, 8:30 am - 2:10 pm, 5:20-5:45 pm)
15 minutes early evenings (5:45-8:00 pm)
12 minutes mid-day Saturdays (8:45 am to 7:00 pm)
20 minutes early/late Saturdays (from 7 am, until midnight)
20 all day Sundays (9:30 am to 6:30 pm)
Opening
May 18,1985
Downtown to Amherst Street
May 1,1986
Extension to University
Ride Description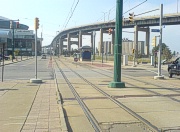 View from Erie Harbor Station looking towards HSBC Arena.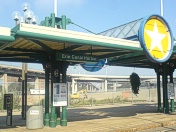 Erie Canal Harbor station.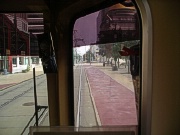 View from the front of a train on the transit mall.
The trip on the route from Erie Canal Harbor to University takes approximately 21 minutes.
The line starts out downtown with a nearly north-south alignment (SSW-NNE would be more accurate) and curves to a Northeast-Southwest alignment between Utica and Delvan stations. Signs make use of the terms "inbound" to describe heading towards downtown (Erie Canal Harbor) and "outbound" for away from downtown.
The downtown end of the line has a station that only serves events a the HSBC Arena. For all other times, the downtown terminus for operation is the Erie Canal Harbor station on Main Street just south of I-190. This station, like all other surface stations along Main Street, has side platforms.
Heading out, the line passes under One HSBC Place along the alignment of Main Street. The line is controlled at intersections with other streets by standard traffic lights.
| | |
| --- | --- |
| | One block of Main Street from Swan to Church/Division Streets has car lanes. |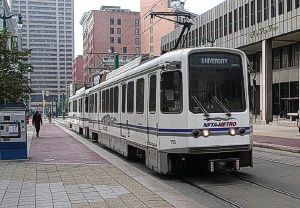 Outbound train approaching Church station.
On Main Street, the LRT operates in an exclusive transit mall where no other vehicles travel. The one exception to this is the block between Swan Street and Church/Division Streets where there is car lanes on either side of the LRT right of way.
Each of the downtown stations (Erie Canal Harbor, Seneca, Church, Lafayette Square, Fountain Plaza, and Theater) are about a block or two apart, with the outbound platform at the outbound-end intersection in the block and the inbound platform at the intersection at that end.
| | | | |
| --- | --- | --- | --- |
| Looking northeast along the Main Street transit mall. | Church station showing high-level platform for boarding front door. | Outbound train approaching Lafayette Square, passing inbound platform. | |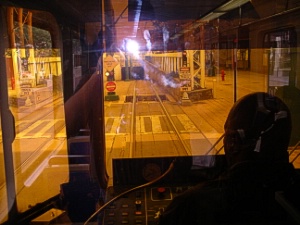 View from onboard on approach to the tunnel.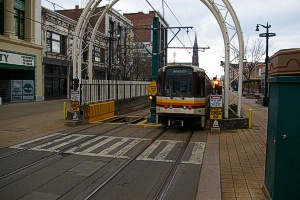 Outbound train entering tunnel.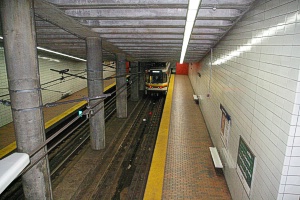 Inbound train leaving Summer Best station.
Viewed from overhead walkway.
Past Theater, the line descends below ground where it continues underground for the rest of the route. Proof of fare payment is required past Theater.
The first underground stop is Allen Medical Hospital, just under a kilometre from the entrance to the tunnel. This station is named partly from the cross street, Allen Street, and partly from the nearby hospital, Roswell Park Cancer Institute. This station has side platforms and brown wall tiles.
About another 650 metres away is Summer Best station. This station is named for the cross street, which is named Summer Street on the west side of Main Street, and named Best Street on the east. This station has side platforms and white wall tiles.
The next station is Utica, just over 800 metres from Summer Best. It is named after the cross street, Utica Street, and also has side platforms and white tiled walls.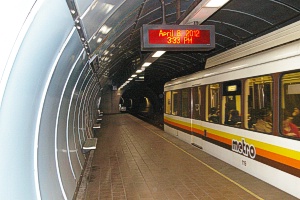 Outbound train at Delavan/Canisius College.
The trip to the next station, Delavan/Canisius College, is about 1.5 km. The line curves towards a northeast alignment about 450 metres from Utica station.
All stations from here have a single centre island platform. The first two, Delavan/Canisius College and Humboldt Hospital, have curved paneled walls, similar to Queen's Park station in Toronto.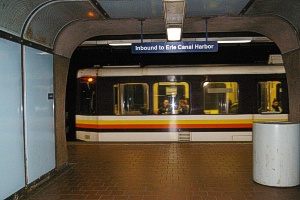 Inbound train arriving at Delavan/Canisius College.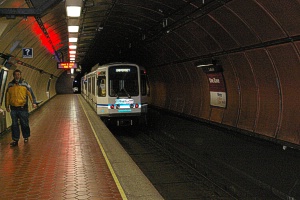 Outbound departing LaSalle.
Delavan/Canisius College is named for the cross street, Delavan Avenue, and the nearby campus of Canisius College. Humboldt Hospital is located at the intersection of Kensington Avenue and Main Street, which has the Scajaquada Expressway and its service road, the Humboldt Parkway pass under the intersection. The "Hospital" part of the station's name comes from the nearby Sisters of Charity Hospital on Kensington Avenue. Humboldt Hospital station is about 800 metres from Delavan/Canisius College station.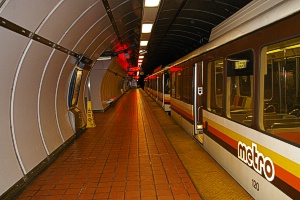 University station.
A little more than 1.8 km from Humboldt Hospital station is Amherst Street station, named for the cross street. This centre platform station is the only one without curved walls. Instead, it has a more open feeling, since the curved wall stations have limited locations where one can pass from one platform to the other or to an exit.
The second last station on the line is LaSalle, just under 1.1 km from Amherst Street. Like Delavan/Canisius College and Humboldt Hospital, this station has a centre platform with curved walls. Original plans for the line called for a branch to Tonawanda just before the LaSalle station. A partially completed tunnel was built and is the only existing remnant of this proposed branch.
The final stop on the line is University, about 1.2 km from LaSalle. It also has the centre platform and curved walls. Unlike all the other stations on the line, this station is not located directly beneath Main Street, but is a couple of hundred metres southwest of Main Street's alignment at University at Buffalo - South Campus.
Fares and Fare Collection
These fares are effective May 1, 2012...
The singel cash fare is US$2. The surface portion of Metro Rail is a free fare zone. Free transfer between bus and rail will be discontinued.
A day pass is available for US$5, while a monthly pass will be US$75. A 30-day pass will be returning for US$75.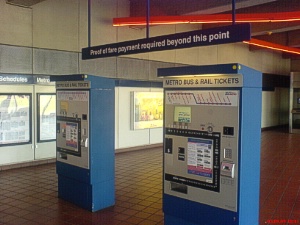 Ticket vending machine.
Accessibility
The underground section of the line has high level platforms for level boarding and elevators are present at each station. On the downtown transit mall, the front door opens at a small high level platform that has ramp access.
| | |
| --- | --- |
| View out front door at street level station. | View out any door at tunnel station. |
Other Notes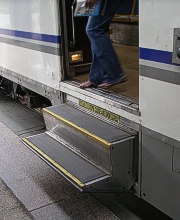 Instead of having steps inside the car, Buffalo's LRVs have steps that deploy on the outside of the vehicle when stopped at a surface station. They deploy before the doors are opened, and retract after the doors have closed. At surface stations, the front door by the operator's cab is spotted at a small high-level platform for accessibility.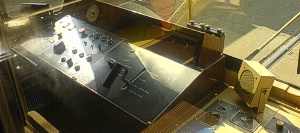 View of operator's cab.
The original paint and interior of the LRVs had a yellow/orange/brown colour theme. More recently, this has been replaced with a blue/grey theme. Though these cars have now been in service for 30 years, they are now undergoing a rebuilding program that is expected to extend their life for a number of years. The rebuilding is being done by AnsaldoBreda at a facility in Hornell, New York. The rebuilding will include enhanced video monitoring of the interiors, upgraded brakes, rebuilt HVAC systems, rebuilt door systems, the new colour theme, upgraded propulsion, and repair to the body shells involving the use of stainless steel at lower levels. The LRVs will also receive new monitoring systems, automated announcements, new door chimes, and interior/exterior LED signage to replace existing rollsigns.
Current and Planned Expansion
There are no viable plans to expand the system at this time. Three projects have been considered for sometime, but no official move towards their implementation have been made.
University Line Extension
In the December 2006 issue of The Spectrum, a publication of the University at Buffalo (UB), it was announced that UB President John B. Simpson was planning to get a project underway that would connect UB's three campuses via a transportation system.
Airport Corridor
The Airport corridor would begin in Downtown Buffalo, near the current Metro Rail's Church station, and continue along Division Street, diagonally in a northeastern direction near Jefferson toward the Buffalo Central Terminal, cross Broadway, and then continue eastbound in a private right of way to the Thruway Plaza, Walden Galleria and Buffalo Airport.
Tonawandas Corridor
The Tonawandas corridor would operate branch off the existing line south of LaSalle station northwesterly to the City of Tonawanda using the abandoned Erie Railroad right of way and tracks.