Part of the Don Mills LRT line should be built as full subway. No, you haven't entered a parallel universe where everything is backwards. I still believe that the entire Spadina Subway Extension and a proposed Yonge Extension north of Steeles would better serve our transit needs if built as LRT, but this is not the case for the portion of the proposed Don Mils LRT line that will be south of Eglinton. Eglinton and Don Mills should be the north-eastern end of a Downtown Relief Line (DRL), built as a full Subway.
A DRL will eventually be needed and it is likely that it will meet the Bloor-Danforth Subway at Pape station, the same location where the proposed Don Mills LRT line will meet it. This will create a fairly busy transfer point, with people coming from the north on the Don Mills line and people coming from the east on the Bloor-Danforth line needing to change to a downtown train on the DRL. Extending a DRL up to Eglinton will move a significant amount of these transfers to this northern location, making the crowding issues at Pape more manageable.
Furthermore, having a full subway terminate at Eglinton means that a very significant number of downtown-bound people on or near Eglinton will take this line for its faster and less crowded way to get downtown. This would attract more people who would otherwise ride the Eglinton LRT over to Yonge, partly due to one less transfer, and partly due to a slightly faster choice. I would even suspect that some people between Don Mills and Bayview would even find taking the Eglinton line east to Don Mills and a subway from there to downtown a better option than going west to Yonge. This would have a additional relief effect on the Yonge line beyond simply diverting people coming from the east on the Bloor-Danforth line.
Though subway construction is more expensive, this is one situation where it will not likely be as great an increase over LRT compared to many situations. South of the Don Valley, the LRT line will likely have to be in a tunnel as there are no streets in this area wide enough to support a median right of way. This will make its cost substantially higher than a surface LRT line. To build this part of the line as a full subway will add to the cost, but not in the way that change would increase the cost over a surface LRT line.
Plans for the line from here north to Eglinton have suggested that it cross the valley on the Confederation Bridge (more commonly known as the Leaside Bridge- the one that Millwood Road crosses on). This will be problematic. This bridge was designed with the possibility of streetcar tracks being added to four lanes of automobile traffic. The road was later upgraded to six lanes, using the capacity designed for streetcars to take the load of the additional automobile traffic. Placing an LRT line over this bridge will either require eliminating two lanes of traffic or substantial upgrading of the bridge. Added to this, the tunnel portal south of the bridge will be rather difficult to shoehorn into the space available.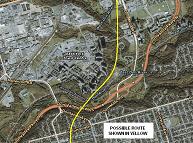 A better approach, whether for LRT or for full subway, would be to have the tunnel emerge out of the side of the valley at a lower level, just north of Donlands Avenue, further east of the existing bridge. Building a lower level bridge would be less costly than a separate higher level bridge, though it would still be more costly than upgrades to the existing bridge. This extra cost could be partly offset by a slightly less costly right of way north of here. Another advantage to a lower level bridge through the valley is that it makes it possible to implement a station in the valley that would enable a convenient connection with the GO Transit line to Richmond Hill.
Instead of a concrete encased median right of way on Overlea and Don Mills for LRT or a tunnel for subway, the line could stay above ground and follow the valley up to just south of the Ontario Science Centre where it could shift closer to Don Mills. This alignment would slightly lower the cost for either LRT or subway. As a subway line,  it would have to go underground for the last portion before reaching Eglinton.
A DRL subway makes sense because it enhances the subway network, and is not simply a radial extension. While extending such a line up to Eglinton is a type of radial extension, its terminus would be at a point where it would meet up with two lines of the Transit City LRT network capable of feeding this extension with passengers from three directions.