I can't exactly claim credit, but in a National Post article on the soon-to-be-released Metrolinx Regional Transportation Plan (RTP), there are some recommendations that could have come directly from my York Region analysis. In particular:
Northward extensions of TTC light-rail lines planned for Jane Street and Don Mills north to Highway 7 in York Region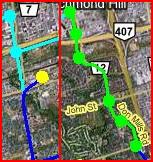 These were part of my analysis that showed what could be done with the money that will only build 12 km of subway extensions. The money for a Yonge Street subway from Steeles to Highway 7 could be used to build an LRT line along that corridor and continue all the way to Major MacKenzie Drive, AND build an LRT line from the Donwsview Subway station all the way up Dufferin to Langstaff (just north of Highway 7) AND a third line that extends the Transit City Don Mills line up Don Mills and Leslie to Highway 7.
The money for the Spadina extension north of Steeles could build the LRT line from there going up Jane Street to Highway 7, and continue west on Highway 7 to Weston Road, PLUS an east-west line from Jane and the 407 to Centre Street and then follow the VIVA Purple route east to Leslie Street. If none of the Spadina extension were built, the money could provide an LRT line over the entire length, including an underground section through York University's campus, plus what was described above could go as far west as Pine Valley Drive and as far east as the Unionville GO Station at Kennedy Road.
By the way, some revisions are in the planning stage to my York Region analysis. Watch for them in the next few months.