A number of people have referred to the Spadina Extension as the Sorbara Subway in reference to the line terminating in the riding of former provincial finance minister Greg Sorbara, the man who announced the provincial funding for this extension.
In this blog, I have called the Yonge Extension to Highway 7 the Jones Express, in reference to Markham Deputy Mayor and transit board member Jim Jones. I was recently asked why pick on him when other politicians are supporting this. Also, possibility of the extension came about in a Dalton McGuinty pre-election announcement in June 2007.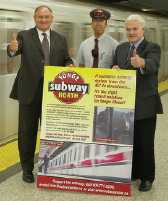 My reason is simple: Jones spearheaded the push for this extension, encouraging other politicians to climb on board. Even before McGuinty made his announcement in June, Jones wrote this letter to York Region Council in April, copying it to federal and provincial finance and infrastructure ministers, and the councils of Markham, Richmond Hill, and Vaughan. After McGuinty's announcement, he made this motion at York Region Council.
Most visibly, he made himself available to be photographed for subwaynow.ca propaganda (he's on the right in the photo above, along with Markham mayor Frank Scarpitti on the left and an unidentified TTC employee). It has been suggested to me that Jones may be more involved with subwaynow.ca than it appears from viewing the website. This is only speculation, likely due to the short time it took to have the photo available for subwaynow.ca.
Speaking of subwaynow.ca, their brochure that extols the virtues of subway over bus lanes, makes a few valid points for that argument but also makes some bogus points. I will post a point-by-point breakdown of this brochure with comparisons to LRT sometime soon, likely after the workshop this Thursday.