In the second part of a two-part article on transit expansion in York Region (part one discussed this site), former TTC general manager David Gunn was quoted as saying, "Why are you going to extend that subway today when you can't run any more trains through Bloor?"
This is a main argument in my opposition to radial expansion of the TTC's Subway system. With the exception of extending the Yonge line to Steeles, no other radial expansion can justify its cost. Even an extension to Steeles is only justifiable because of its ability to eliminate the bottleneck of 17 bus routes on Yonge from Steeles to Finch (TTC routes 53, 60, and 97; YRT routes 2, 5, 23, 77, 88, 91, and 99; five YRT express routes; and VIVA Blue and Pink), plus provide a second location to turn back trains to permit headways shorter than about 140 seconds during peak times.
While I support a network of LRT lines as a priority to move us towards having the level of transit service that we should have, new additions to the Subway network are not out of the question, provided the numbers warrant it and the additions enhance the network by connecting with the existing system in at least two locations. There are two possibilities where this could apply at this time.
One is the central part of the Eglinton crosstown LRT line under Transit City. This is the 10 km part of the line from about Keele to Leslie that would be built underground. The plans for TC are being revised to have this built in a way that would make it easier to convert to full Subway in the future if needed. I personally think that it is a waste of money to provide this sort of forward thinking for the simple reason that if the line's patronage increased to the point where full Subway operation is needed, there is no way a heavily-used LRT line will be shut down for six months (or longer) while the conversion takes place. If the projections really show that a subway will be needed (they don't), build it as full Subway from now. As a Subway line, it would enhance the overall network by connecting at Yonge and at Allen Road.
The second possibility is a downtown relief line (DRL) connecting with the Bloor-Danforth line anywhere from Greeenwood to Pape and heading downtown to connect with the Yonge line anywhere between Dundas and Union. This line could later be extended west and back up to the Bloor-Danforth line somewhere near Keele. Though there are no definite LRT plans as an alternative, a U-shaped connecting extension of the Don Mills and Jane Transit City lines is a possibility. I remain unconvinced on which option is better for this as it will have to be looked into further.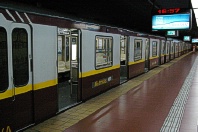 The bottom line is, the only Subway expansion that should be considered is that which is network enhancing, not radially expanding. Consider the city of Buenos Aires:  Their system has consisted of five lines. One relatively short line downtown that intersects with four lines that radiate out into suburban areas. Travelling from the far end of any one radial line to the far end of another is a long trip downtown and back out. In many cases, a cross-town bus trip takes much less time.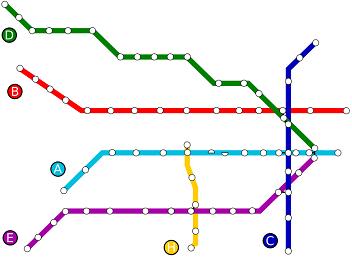 This can be compared to Toronto, if you consider we also have four radial lines coming out of downtown: Bloor, Spadina, Yonge, and Danforth. Currently, a new line is under construction in Buenos Aires. Shown in yellow on the map above, the first portion of it opened last year. This is an example of a network enhancing line. It will continue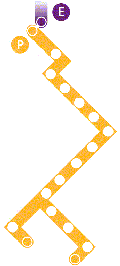 north and cross B (red) and D (green) and terminate at the northern end of C (blue). This takes a lot of pressure off of the central part of the system. Additional plans are in the works for other lines that provide other network enhancements that not only provide capacity to new areas, but also provide alternative ways to get to a destination.
One additional note about Buenos Aires relevant to our situation here: instead of further radial expansion of the E line (purple), a 7.4 km light rail line was implemented in 1987 referred to as the PreMetro, or the P line. Stretching out from the dense city centre, it makes sense that an appropriate mode change must occur at some point.