The latest city to come to this site was photographed at the end of March. It is San Francisco's Muni Metro LRT system.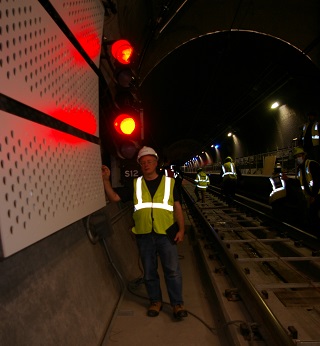 Something new to this site is that there are some photos taken on a new extension that is not yet open for service. The Central Subway takes Route T north on Fourth Street from where it currently turns at King Street. With one street-level station, it then enters the tunnel and serves three new underground stations.
As a trainer for the company contracted to provide the CBTC (Communications-Based Train Control) signalling system, I had the opportunity to visit the three stations on the Central Subway during the training sessions to provide the maintainers attending the training to get some hands-on experience with the equipment before it goes into revenue service. The photo has me at the signal on the west track at the north end of the Chinatown-Rose Pak station.