It required over another half day of debate, but at about 2:40 pm, the main motion on going with the LRT plan for Sheppard East came to a vote and was passed 24-19. Here is a photo of the results of the vote (click on it to see a larger version):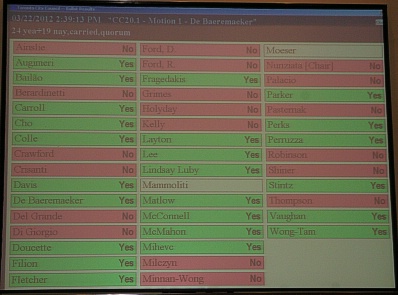 The day started with some comments about the attempts to filibuster on Wednesday before continuing with the questions on Councillor Thompson's motion to defer everything. There was a motion to amend his motion by adding a deadline to the deferral that required a report back to council for the May 8 and 9 meeting. At 11 am, the deferral and its amendment went to a vote. The amendment passed, but the main motion itself failed and discussion returned to the main motion.
There were a few "no strings" motions put forward to essentially create a committee or mechanism that would be on-going to study ways to create on-going funding for transit development and even look into studying the priority of future projects. These are "no strings" because they were not tied to whether Sheppard East would be LRT or subway. Personally, I believe this is a good idea as it could create a way of doing things that keeps looking to the future for transit needs instead of just coming up with a new line on a map when it either makes a good election promise or another level of government is waiving some cash at the city.
I suspect that the lack of any 3P way to fund Ford's plan whatsoever may because the city has lacked this sort of initiative until now. After all, if you had a load of cash to invest and the city came to you looking for it and you asked what sort of planning structure they had in place, what should your reaction be when they respond with, "Uh, our plan was to just ask you"?
These motions were intentionally left open-ended to allow what ever body exists to explore all possible sources of funding. Anything goes - be that going to the province or feds to beg, make use of existing or asking for new revenue tools, going to the private sector, or even holding a bake sale. Still, Councillor Ford had to ask if it would include looking at 3P sources. When told 'yes', he continued to ask, until he became frustrated and made a comment about "working with a bunch of monkeys." He had to apologize for this comment, but his lack of understanding what the word 'yes' means shows that Councillor Cho was correct on Wednesday when he asked Doug Ford if he understood the language.