Today was the special meeting of Council on the transit choice for Sheppard East.
The morning, and part of the afternoon, was spent on questions for staff. The chair of the special panel on Sheppard, Professor Eric Miller, was not present as he is at a conference that was arranged long before this meeting was set for today (it was originally set for March 15). In order for him to be asked questions, a teleconference connection was to be used, but as this has never been used by Council and there are no official rules regarding it, Council needed to approve it. Councillor Minnan-Wong rose on a point of order questioning what the long term effects of this vote would mean. The City Clerk indicated that the vote would only apply to this one situation and would not be precedent setting. The vote to allow the teleconference questioning passed.
Councillor Kelly had a motion to allow another speaker to answer questions. Since this was an agenda change, it required a 2/3 majority vote and did not pass.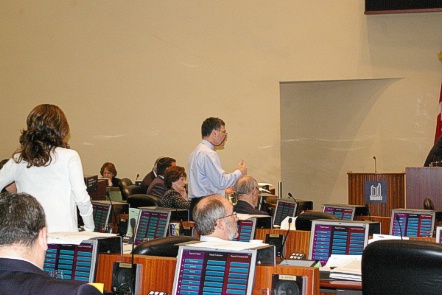 A little after 3 pm, the main motion was finally presented by Councillor De Baeremaeker, followed by questions on the motion. After this, other councillors either spoke on the motion or presented other motions.
Of all the motions, a three points are worth noting. Councillor Kelly had a motion to use the $650 million provincial and $333 million federal money to extend the Sheppard subway to Victoria Park as a first phase, and build BRT along Sheppard for the interim. He was talking full BRT with reserved median lanes that would require similar construction that LRT median lanes would need, except no tracks and overhead wire. Of course, he seems to have no idea that BRT lanes must be wider than LRT lanes. He claimed that BRT would cost less to build, cost less to operate, and have the same capacity as LRT.
I guess one out of three ain't bad. Yes, it would be a little less expensive to build, but it would still involve the same type of construction that he claims businesses in his ward fear. Cheaper to operate? Not by a long shot. Forget the energy costs, since 80% of the operating cost will be the labour to operate it. If you need to move 3000 people per hour which is less costly: pay operators for LRVs that can carry 340 people at a time (train of 2-cars with 170 people each), or pay operators for articulated buses that can carry 75 people at a time.
As for capacity: initially, BRT will certainly handle what Sheppard requires, but not for long. Sheppard's current ridership is in the overlap between what BRT can provide and where LRT becomes practical. Since Sheppard is at the bottom end of LRT capacity, it will handle the needs for a very long time into the future, and are we not supposed to be planning for the future?
The second thing I thought was interesting showed up in a motion by Councillor Pasternak. Being concerned about getting the Sheppard line extended west to Downsview, his motion dealt with Sheppard West, calling it the "North York Relief Line". That's the first time I've heard that used, and it is no doubt an attempt to ride the coat tails of the Downtown Relief Line.
The third thing worth noting was something that came up in another motion, but Councillor Kelly amended his motion to include it as well. It was an alternative alignment of the Sheppard subway that would have it remain on Sheppard to McCowan and then turn south to Scarborough Town Centre. This was brought up as an alignment that was once considered, but I don't recall hearing of it before, only the alignment that begins to curve south from Sheppard east of Kennedy. Likely, this was in response to the criticisms that only 3 km of Sheppard in Scarborough would actually have a subway under it. McCowan is about another 2.4 km east of Kennedy, but given that in order for a subway to move at a reasonable speed it needs a 700 metre turning radius, it would be necessary to start turning south just east of Brimley Road, so forget about a subway station at McCowan and Sheppard. Furthermore, how many of the home owners in that neighbourhood would be keen on the tunnelling right beneath their homes?
At 7:40 pm, Councillor Thompson introduced a motion to defer EVERYTHING until the City Manager can look into all of this in more detail and report back to Council. Absolutely no deadlines were part of his motion, so this appears to be nothing more than an attempt by the Ford Faction to just push this whole thing "away" for as long as possible. Naturally, questions regarding his motion would take things past 8 pm, which was the scheduled adjournment time for the meeting. Two attempts to have it extended, one until the agenda was covered, and another to 10 pm, failed as they both require a 2/3 majority to pass didn't quite make it. There was a motion to start on Thursday at 10:30 am, and Rob Ford had a motion to start at 9:30 am on April 4, but both of these also require a 2/3 majority to pass, and couldn't get it. In the absence of any passed motion, the meeting must continue Thursday at 9:30 am.
Stay tuned.