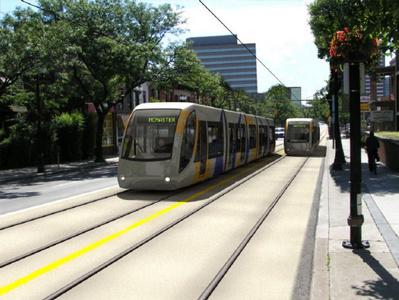 June 27 update:
I attended the June 27 meeting, where about 35-40 people were in attendance. These meetings are part of the preparation of a secondary plan for land use along the B-Line corridor from McMaster University to Eastgate Square. The plan will establish future land use patterns and urban design direction for areas along the corridor. Some changes to zoning bylaws and regulations may result from this.
The meetings follow design charrettes that took place earlier in the day where a small groups worked with a local architect to come up with some potential future design ideas for the study area. 3D images of these potential ideas were presented at the meeting along with the design goals and concerns that lead to their development.  A discussion took place after the presentation and people were encouraged to express what they liked and did not like about the plan.
Original post continues…
Unlike people in Toronto or York Region, the folks in Hamilton will have a chance to bring their vision for a light-rail transit corridor to life during a series of public meetings around six key neighbourhoods along the proposed route. As mentioned in this article from the Hamilton Spectator, the following LRT Design Workshops will be taking place:
Longwood Road and Main Street West study area
Grace Evangelical Lutheran Church
1107 Main St. W. (at Cline Avenue)
Tuesday, June 21, at 7 p.m.
The Queenston Traffic Circle and Parkdale Avenue study area
St. Columba Presbyterian Church
1540 Main St. E. (at Weir Street)
Thursday, June 23, at 7 p.m.
Dundurn Street and King Street West study area
The Scottish Rite Round Room
4 Queen St. S. (at King Street)
Monday, June 27 at 7 p.m.
The Delta and Ottawa Street study area
Delta United Church
47 Ottawa St. S.
Tuesday, June 28 at 7 p.m.
Wentworth Street and King Street East study area
Festival Banquet Centre
747 King St. E.
Tuesday, July 5 at 7 p.m.
Nash Road and Queenston Road study area
Red Hill branch of the Hamilton Public Library
695 Queenston Rd.
Wednesday July 6, 7 p.m.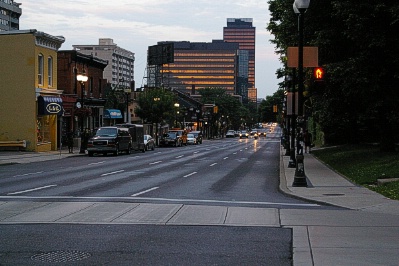 Current view of King Street