I have been on the fence about concrete medians. Cited as being necessary for emergency vehicle use as well as possible replacement bus service, I more or less accepted them even though they typically drive the cost per kilometre of light rail construction from about $30 million to $50 million. My main issue was that the TTC was not considering the use of side-of-the-road running where it was practical, such as Brentcliffe to Don Mills and the Richview Expressway lands on Eglinton.
Now, I have seen an alternative that turns this around…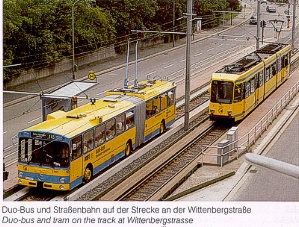 This is in Essen and it strikes me that it would be less expensive than total concrete encasement, both for initial construction as well as later maintenance. If anyone has cost details on this, let me know.