The original concept of the Sheppard East LRT was for a surface median line from Don Mills to Morningside, estimated at $550 million in 2007 dollars. After the first round of public open houses, two substantial changes were added. The first was placing the line underground from Consumers Road to Don Mills station, and the second was an eastward extension of nearly 2.5 km to Meadowvale Road. These changes plus two years of inflation has brought the price-tag of this line up to $950 million, and this funding is secured.
One of the motions that city council will address today, is the following:
City Council request Metrolinx and the TTC to report back to the Scarborough Community Council by April 2010 on Scarborough Community Council's position that the Sheppard East LRT will terminate at the Toronto Zoo. 
This extension makes sense. The zoo is a major trip generator that is within 2 km of the intersection of Sheppard and Meadowvale. I suspect that if approved, this would not hold up the rest of the line, but instead would be treated as a separate project that would need funding in place before it began. Hopefully, it could get such funding and be started before the current project is completed similar to the way the Bloor-Danforth subway extensions to Islington and Warden were begun before the line opened from Keele to Woodbine, and the way the Yonge North extension to Sheppard was underway when they added a further extension to Finch (though, due to delays with the initial project, it initially opened to York Mills and then to Finch).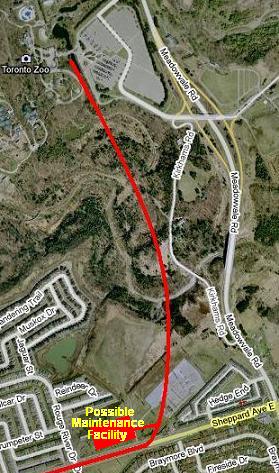 The one thing with the current project that may be altered by an extension to the zoo is the alignment at Meadowvale. Instead of staying in a median on Sheppard all the way to Meadowvale, I can see an advantage with leaving the median a short distance west of Meadowvale and heading north to northeast towards the zoo. Considering that a maintenance facility may be built around there, having the alignment leave the median would provide a small benefit of having the connections to the facility off road.
The downside of this is that the stop at Meadowvale and Sheppard would not be there, but further west on Sheppard. Of course, there could be a separate branch to the intersection for when service does not need to go to the zoo, or when it need not go there as frequently.
End of day update: the motion before council about this extension was ruled out of order and was withdrawn. It was ruled out of order because the meeting's purpose was to discuss funding of current city development. Thus, new proposals are out of order. This does not mean that new projects cannot happen, just that Thursday's meeting was not the place to launch motions on them.