From the recent open houses held for the Eglinton-Crosstown LRT, the project page has the display panels available. I have also placed copies on this site: Part 1 (2.5 Mb), Part 2 (2.1 Mb), and Part 3 (1.1 Mb).
Steve Munro has a good breakdown and description of the details on his site, split into three sections:
One item of note is that the TTC is considering the use of a single bore tunnel where tunnel boring is to be used.
Double bore tunnels would have two 6 metre bores for the tunnel, but cut and cover box construction would be used at stations and in places where underground storage and crossover tracks are needed. Bored portions of the TTC subway system uses this method.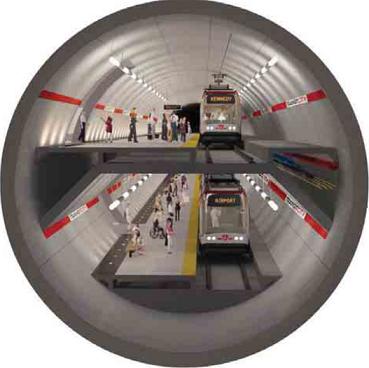 With a single bore, the diameter is 13 metres and two levels are created in the bore with one direction on the top and the other on the bottom. Stations are built within the bore itself, and room for crossover and storage tracks can be accommodated with a ramp between the levels. By eliminating the cut and cover construction mentioned above, this method of construction is less disruptive on the surface.
For those familiar with the SkyTrain in Vancouver, the portion downtown was built the former Dunsmuir railway tunnel. Unlike what the TTC is looking at, the Dunsmuir tunnel did not have a wide circular bore, but was only one track wide with high vertical clearance. This allowed a superstructure to be built to carry the westbound SkyTrain track. The Burrard and Granville Stations are located on the tunnel section and both have westbound (towards Waterfront) platforms on an upper level and eastbound on a lower level.