Updated June 18: The display boards are now available online. 
Updated June 12: I have added a route map of the study area to help clarify the description current transit service in the area.
I attended the Don Mills/Leslie LRT Project Public Consultation (PPC) meeting this evening (June 10). This was a first-round meeting where the initial concepts of the plan were being presented. There will be at least two other meetings, tentatively planned for October and December, as the plan develops as additional details (Transit City Don Mills LRT and the Highway 7 Rapidway) become available and public feedback from this meeting are considered.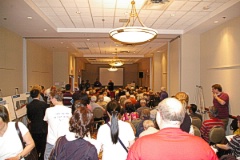 While there were no signs outside the Hilton Garden Inn at Commerce Valley East and Highway 7, the parking lot was completely full. Given that this location is quite easily accessible by transit, and that says a lot for York Region, the full parking lot ought to have been an indicator of the mood inside. The room was rather small as well, which probably did not enhance the help.
Background 
The background for this is that Metrolinx identified in their Regional Transportation Plan (RTP), "The Big Move," that the Don Mills/Leslie corridor from Steeles to Highway 7 should be an LRT corridor. Metrolinx is not exactly known for being all that open (many of their public meetings were held in the middle of a weekday), and some of the things in the RTP were rather questionable or even confrontational (building a crosstown line using ICTS/ART technology, despite Transit City plans over a year old), the idea of a Don Mills/Leslie LRT corridor was not simply pulled out of thin air (or any other place one might think of).
Transit City's Don Mills line will go up Don Mills to Steeles. The plan is to connect with the Bloor-Danforth subway, likely at Pape station, though I am in favour of building a Downtown Relief Line subway as far north as Don Mills and Eglinton. Continuing north up Don Mills (which becomes Leslie at John Street) is a logical extension of this. This corridor has somewhat light use outside of rush hours but very heavy use during rush hours, with the bulk of travel coming from the south to the Commerce Valley/Beaver Creek business district. Not every LRT run will go north of Steeles, especially outside of peak times. The area is currently served by the following routes:
From Steeles to Commerce Valley Drive:  TTC route 25D provides service only on weekdays from about 6:30 am to about 10:30 pm; Peak hours have this route running at frequencies between 14 and 16 minutes, while mid-day frequency drops to 36 minutes and evenings about 28-33 minutes
The entire corridor from Steeles to Highway 7: YRT route 90 provides service seven days a week, mostly on a 30 minute frequency, though a few additional runs during peak times exist; Weekday service runs from about 6:00 am to about 9:00 pm, while weekend service runs to about 8:00 pm starting at about 7:00 am on Saturdays and about 10:00 am on Sundays
Steeles to Green Lane: YRT route 3 and 3B diverts off of Don Mills to use Simonston Boulevard on the west side for southbound trips and on the east side for northbound trips, providing service seven days per week; peak time frequency is about 15-20 minutes, while the rest of the time the frequency is 40 minutes; Weekday service runs from about 6:00 am to about 11:00 pm, while weekend service runs to about 10:00 pm starting at about 8:30 am on Saturdays and about 10:00 am on Sundays
Commerce Valley Drive to Highway 7, northbound only: YRT route 82 uses this stretch to loop Mondays to Saturdays; the frequency is roughly 60 minutes mid-days and Saturdays and 30 minute service during rush hours; Weekday service runs from about 6:30 am to 9:00 pm and Saturday service from about 8:30 am to 7:30 pm; the route alos also makes weekday runs to St. Robert High School on the south side of the 407
Over the next decade, this corridor will only become much worse during rush hours and somewhat busier the rest of the time.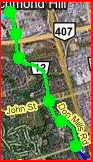 Now, I do have a biased opinion on this project. It was my proposed alternative to subway construction that I first put forward in April 2008 that suggested a northern extension of the Don Mills LRT. In September, I noted that it was rumoured that this may become part of the Metrolinx RTP. The PPC showed proposed stops at all the locations I proposed, plus a few additional stops all south of the 407. The proposal also has the line running in a median right of way the entire distance, while I suggested a west-side right of way from just south of the 407.
The study will likely also be looking at the possibility of extending this line all the way up to Major MacKenzie Drive.
Public Opinion
The word 'hostile' doesn't quite capture the overall feeling of the crowd. The bulk of the attendees appeared to be residents of the neighbourhoods along Don Mills and Leslie, as they should. When asked about the benefits this line would provide them (forget, for a moment about the heavy traffic and increasing bus noise and fumes that will only be getting worse without this line), the presenters asked if this line would be used by the people of the neighbourhood. The resounding answer was, "No!" No surprise to me, as I recalled the full parking lot outside.
To be fair, most of those attending had difficulty grasping the concept that this was a first-round public consultation. The idea that this was practically a done deal and that the government would never really listen to input was pretty set in most peoples' minds. I can't really blame them, given that I felt the same way with the Yonge Subway extension plans. Of course, as we are now seeing, plans will only get you a chocolate bar if you have a loonie to buy it with. This project will not be breaking ground in six months when the new transit EA is completed, it will need funding, and it won't get funding until the Transit City Don Mills line receives funding, and that is part of the second phase of Transit City.
Even so, many people attending seemed to be under the belief that this was a line unto itself, meaning that once the plans are approved, it was just a matter of constructing it. The other aspect of this "line unto itself" belief was demonstrated in the suggestions that it could be built in the 404 corridor or the Woodbine corridor. The Don Mills/Leslie corridor was chosen as it is a natural extension of the Don Mills line that will be built south of Steeles. If the primary purpose of this project is for the heavy use during peak times primarily made up of commuters coming from the south and heading to the Commerce Valley/Beaver Creek area, then a more express route with fewer stops using the 404 corridor is not a bad idea. The trouble is, what is the best way to connect the Don Mills line with the 404 corridor? Steeles is pretty busy along that stretch, so perhaps the residents on the east side of Don Mills might prefer the line to go along Simonston Boulevard and cut through the back yards of the homes on Windsor Court Road to reach the 404 where it is much closer to Don Mills than it is at Steeles - that's the ticket!
It was not helpful that there was not one politician present at the meeting. Some may find that their offices may receive a few calls in the morning.
There were some valid concerns regarding noise, which detailed analysis was not yet available. Also of concern was how much mess the construction would cause. The issue with few in the area likely to make use of the line was not totally the result of the car-centric mind set of York Region residents, but the neighbourhood is not exactly well designed for pedestrian access to Don Mills and Leslie. Except for homes on a street that connects with either Don Mills or Leslie, a walk to a stop that may be only directly less than 100 metres away can involve over three times that distance of actual walking.
There were some dubious concerns. One woman questioned the safety of children having to cross a "rail line". This will be a median right of way that will have movements controlled by traffic signals. If children will cross against the light when an LRT line is in place, they certainly must be doing it now. I have to ask how many children, and adults for that matter, dart out in front of a stopped bus simply because their light is green. We all know how well drivers wait behind the bus to make their right turns all the time, don't we? One gentleman showed me his comment card that said, "Just put more buses on the road at rush hours." I can really see how more buses will increase safety as impatient motorists floor it to get around them.
I had to shake my head at some of the far out concerns. One made reference to last week's derailment in Oshawa and if one were to occur on CN's York Subdivision, how would evacuation be possible with an LRT line through the neighbourhood. Good grief! This line will not remove any driving lanes from the road. There will still be two lanes in both directions. In fact, in an emergency, the concrete-encased LRT lanes will provide 50% more road space for people to hightail it out of there!
Then there was the concern about parking. If people in the area were to even consider using this line, there had to be parking lots at stops. When one of the presenters said there would not be parking lots at all of the stops, the crowd took that to mean that there would not be parking at any of the stops. The most likely stop to have parking will be the stop at St. Robert's High School / 407 Transitway, as there may be a hub with the proposed Transitway that will see parking created on the west side of Leslie just south of the 407. Even so, this is more likely intended to be for cars coming off the 407 rather than people who live a few blocks away.
The line of the night came from a guy who said roughly, "I have rapid transit now, it's my car." Fine, but I predict that gas will be over $2 per litre before this line breaks ground.