Wednesday, March 21st, 2012
Today was the special meeting of Council on the transit choice for Sheppard East.
The morning, and part of the afternoon, was spent on questions for staff. The chair of the special panel on Sheppard, Professor Eric Miller, was not present as he is at a conference that was arranged long before this meeting was set for today (it was originally set for March 15). In order for him to be asked questions, a teleconference connection was to be used, but as this has never been used by Council and there are no official rules regarding it, Council needed to approve it. Councillor Minnan-Wong rose on a point of order questioning what the long term effects of this vote would mean. The City Clerk indicated that the vote would only apply to this one situation and would not be precedent setting. The vote to allow the teleconference questioning passed.
Councillor Kelly had a motion to allow another speaker to answer questions. Since this was an agenda change, it required a 2/3 majority vote and did not pass.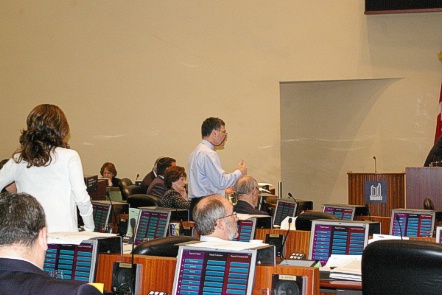 A little after 3 pm, the main motion was finally presented by Councillor De Baeremaeker, followed by questions on the motion. After this, other councillors either spoke on the motion or presented other motions.