Thursday, June 18th, 2009

Updated June 18: The display boards are now available online. 
Updated June 12: I have added a route map of the study area to help clarify the description current transit service in the area.
I attended the Don Mills/Leslie LRT Project Public Consultation (PPC) meeting this evening (June 10). This was a first-round meeting where the initial concepts of the plan were being presented. There will be at least two other meetings, tentatively planned for October and December, as the plan develops as additional details (Transit City Don Mills LRT and the Highway 7 Rapidway) become available and public feedback from this meeting are considered.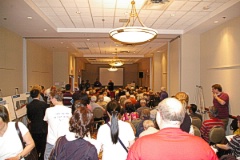 While there were no signs outside the Hilton Garden Inn at Commerce Valley East and Highway 7, the parking lot was completely full. Given that this location is quite easily accessible by transit, and that says a lot for York Region, the full parking lot ought to have been an indicator of the mood inside. The room was rather small as well, which probably did not enhance the help.