Thursday, August 21st, 2008
As we know, the replacements for the existing streetcars in Toronto will be single-ended vehicles, but the Transit City routes will use double-ended vehicles, likely to be an alteration of the other fleet.
A number of discussions have taken place about the benefits of double- over single-ended vehicles, both on this site and on other sites. For a true LRT implementation, double-ended LRVs are the way to go. Several reasons cited are:
Loops require property or, at best, additional streets for on-street turning.
Single-ended vehicles can only load and unload to their right side, while double-ended vehicles allow a mix of centre- and side-platformed stations and stops, as needed.
The TTC's display materials used at various EA open houses mention the issue of wheel squeal with turning loops and cites crossovers used by double-ended operations as being quieter.
If work must be done on a track, with single-ended vehicles both tracks must be taken out of service between usable turning loops, often resulting in extensive portions of the line being taken out of service.
I have cited this last point as an important issue, but the flexibility does depend on track layout. Many cities that I have visited only use trailing-point switches, except for at terminals. This means that turning a vehicle back involves passing the crossover, then reversing operation and crossing over to the other track. Trailing-point switches are often preferred for safety, as the operator does not have to take care to ensure they are aligned properly before passing through.
A few cities I have visited have double crossovers that have both trailing- and facing-point switches. St. Louis, Cleveland, and Sydney Australia are three that come to mind. I was in St. Louis back when the Cross County extension was being built and one evening the LRT was operating on only one track around the location where the extension was to be connected to the existing system. No back-up moves are needed to accomplish this with both types of cross-overs.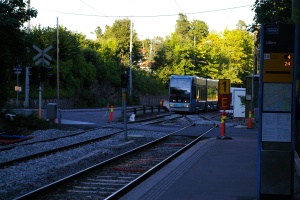 Oslo is another city that sticks with trailing-point crossovers for the most part. On my recent trip, part of the western line was undergoing track replacement between Ullem (pictured above) and Hoff. That is about a 1 km distance with an intermediate stop in the middle. This part of the line is in its own private ROW and is built with ballasted tie construction, and this made it relatively easy to provide a single-track detour. A temporary switch was laid on the remaining track at each end of the construction zone and the other track was realigned to the switch.
Wiring over pantographs is easily moved over the single track, running parallel to the permanent wire over that track. No wire frogs or anything special like that is needed. Pantographs simply contact whatever wire, or wires, are above them.
Whether single-track operation makes use of existing crossovers, or temporarily installed track-work, this can only be accomplished when double-ended (and therefore double-sided) LRVs are used.